Last Sunday I presented a garden-to-table cooking demo called Sensational Cool Season Salads at the Northwest Flower and Garden Show. I showed how to make salads that highlight great winter produce.
I'm always a huge bundle of nerves before any public speaking engagement, but I think it went pretty well. I crammed four salad demos into an hour-long presentation. It was a close-run thing at the end, and I used every minute, but I did get all the salads made! Phew!
My friend Jason, a master gardener and the owner of Third Spring Landscape Design, snapped this photo of me up on stage with my salads once the presentation was over.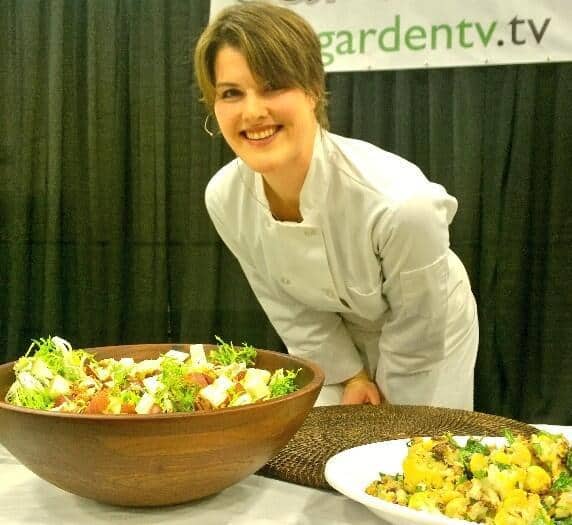 For all you guys who weren't able to make it, here are the recipes!
---
Kale Caesar Salad
All Kale Caesar! The classic Caesar flavors of garlic, anchovy and parm get tossed together with salted kale, homemade croutons and grape tomatoes. The homemade croutons are key – box croutons are not allowed. Make your own and you'll never go back to cardboard croutons, I promise!
The dressing for this salad is the variation preferred by Pioneer Woman. The addition of a bit of sweeter balsamic really works with the kale.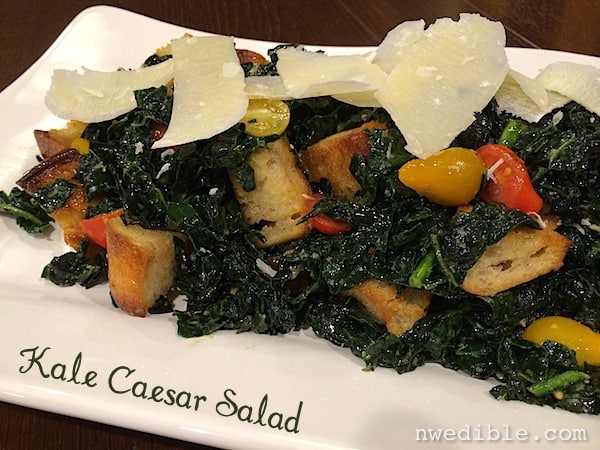 Printable Recipe for Kale Caesar Salad
Kale Caesar Salad
Ingredients
2 large bunches black Tuscan kale
1 tablespoon kosher salt
1/4 cup shaved Parmesan cheese
1 cup cherry or grape tomatoes, halved (optional)
2 cups freshly made croutons
1/2 cup Caesar dressing, or more to taste
For The Croutons
1 pound rustic bread (about 1/2 a loaf)
1/4 cup olive oil
Kosher salt
For The Dressing
4 whole anchovy fillets
2 tablespoons Dijon mustard
1 tablespoon balsamic vinegar
1 teaspoon Worcestershire sauce
2 cloves fresh garlic, peeled
1/2 lemon, juiced
1/2 cup olive oil
1/4 cup freshly grated Parmesan
Kosher salt and freshly ground black pepper to taste
Instructions
Remove the thick stalks from the center of the kale. Pile the leaves on top of one another and roll together. Cut the kale into thin strips. Place the kale strips into a colander set over a bowl and rub together with 1 tablespoon kosher salt. Let kale sit for 30 minutes. This will draw out some of the bitterness from the kale and make the leaves more tender.
After 30 minutes, rinse the kale well with cold water and spin to dry. Proceed with recipe.
While kale is draining, make the fresh croutons. Preheat the oven to 450*F. Tear or slice the bread into bite-size chunks and toss the bread pieces together with the olive oil. Season generously with kosher salt. Spread the croutons in an even layer on a parchment-lined baking sheet. Toast croutons, stirring occasionally, until golden, dry and crisp, about 15 minutes. Set aside to cool. Once fully dry and cool, croutons will keep at room temperature for about a week.
Make the dressing. Measure the anchovies, dijon mustard, balsamic vinegar, Worcestershire sauce, garlic, lemon juice into a blender or food processor. Add oil and blend on low speed for several seconds until dressing is smooth. Add in cheese and pulse to combine. Season to taste with salt and a black pepper. Dressing can be made up to two days ahead and kept refrigerated.
To assemble the salad, toss the drained kale together with the croutons. Add enough dressing to just coat, and toss with clean hands until dressing evenly coats kale and croutons. Add halved cherry tomatoes and toss very gently to mix. Transfer salad to plates if desired and top with shaved parmesan.
---
Roasted Cauliflower and Chickpea Salad with Tahini-Orange Dressing
This salad makes a great vegan light entree. The dressing is made with tahini, which is like peanut butter, but made with sesame seeds. It works very well with the cauliflower and chickpeas in this salad.
If you have salt-cured lemons, use them. (See more: How To Make Salt Cured Meyer Lemons.) They really help the salad to pop. If you don't, some extra lemon juice wouldn't be out of place.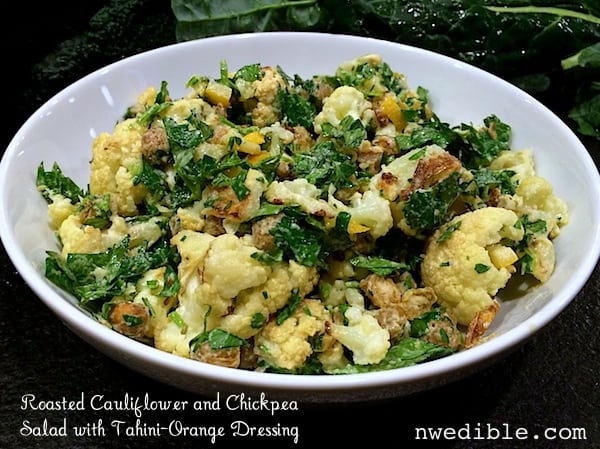 Printable Recipe for Roasted Cauliflower Salad
Roasted Cauliflower and Chickpeas with Tahini-Orange Dressing
Ingredients
1 large head Cauliflower, trimmed.
1 cup cooked chickpeas, drained and patted dry.
1/4 cup olive oil
1 bunch flat-leaf parsley, chopped
1/2 salt-preserved Meyer lemon, chopped into small pieces (optional, but very nice)
Kosher salt and black pepper to taste
For The Dressing
1/4 cup well-stirred tahini (Middle Eastern sesame paste)
1 tablespoon orange zest
juice of half an orange
juice of half a lemon
1 garlic clove, chopped
Kosher salt and black pepper to taste
Water as needed, 2-4 tablespoons
Instructions
Preheat the oven to 450*F. Break or slice the cauliflower into florets and add to a large bowl. Add chickpeas to bowl with cauliflower, drizzle olive oil over both, season to taste with salt and pepper and toss to combine.
Spread cauliflower and chickpeas out on a parchment-lined sheet pan in a single layer and roast until cauliflower is tender and caramelized and chickpeas are crisp, about 25 minutes.
While cauliflower and chickpeas are roasting, make dressing. Blend tahini, orange zest, orange juice, lemon juice, garlic and salt and pepper together. Add enough water to make a nice, thick but pourable dressing. Dressing will tend to thicken as it stands.
When cauliflower and chickpeas are done, set aside to cool to room temperature. In a large bowl, toss cauliflower and chickpeas with salt-preserved lemon, flat-leaf parsley and enough Tahini Orange Dressing to coat. Season to taste. Go easy on the salt if you are using the salt-cured Meyer lemons.
Toss gently to combine.
---
Beet Carpaccio with Goat Cheese and Walnuts
A meatless take on the beef carpaccio presentation, this salad brings together the classic flavor combination of roasted beets, goat cheese, walnuts and arugula.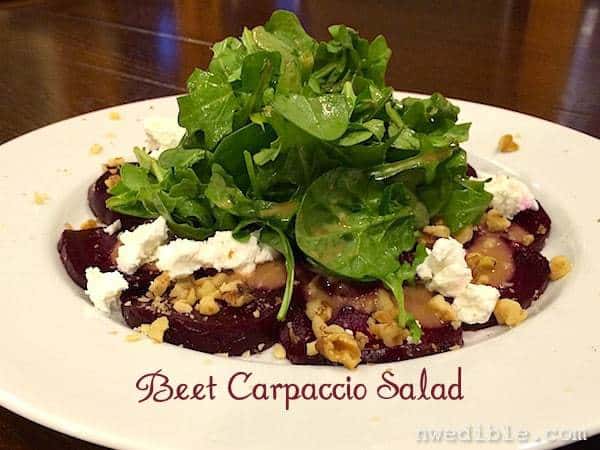 Printable Recipe for Beet Carpaccio Salad
Roasted Beet Carpaccio with Goat Cheese and Walnuts
Ingredients
2 pounds red beets
1/2 cup walnuts, toasted and roughly chopped
Dijon mustard, to taste
4 ounces soft fresh goat cheese, coarsely crumbled
2 oz. baby arugula, mache, microgreens or other tender greens.
For The Dressing
2 tablespoons shallots, minced or thinly sliced into rounds
1/8 cup balsamic vinegar
1/8 cup red wine vinegar
1 tsp honey
2 tsp Dijon mustard
Salt and freshly ground black pepper
1/4 cup olive oil
Instructions
Preheat the oven to 400*F. Scrub beets and trim away all but 1-inch of greens, but do not peel. Place beets on a baking sheet lined with a large sheet of foil. Fold foil up and over beets, and crimp foil edges together to make a packet. Roast beets for 45-90 minutes, depending on size, until fully tender all the way through. When beets are tender, a small skewer or paring knife inserted into the center of a beet should not meet resistance.
Let beets cool, then rub skins off beets with an old, lint-free rag or with very clean hands. Beets can be prepared up to this point as far as two days ahead and kept chilled.
Whisk together the thinly sliced shallot, balsamic and red wine vinegar, honey and Dijon mustard in a medium bowl to blend. Whisk in the olive oil. It's fine if the vinaigrette isn't totally emulsified – we want a "broken" look for this dressing. Season the vinaigrette to taste with salt and pepper.
To assemble salad, slice the beets into thin rounds and fan around a large plate. Stir the dressing and drizzle several spoonfuls over the sliced beets. Top beets with walnuts, dots of Dijon mustard, and crumbled goat cheese. Drop a light bunch of baby greens at the center of the plate. Drizzle baby greens with additional "broken" vinaigrette and serve right away
---
Frisée with Warm Bacon Vinaigrette, Pear and Blue Cheese
Frisée is a lovely cold-weather green in the chicory family. It's less bitter than chicories like radicchio, and is particularly mild when grown in cool weather. It has a nice texture and stands up well to rich accompaniments like bacon and blue cheese. Both are used in this salad, along with pear and pecans, making this salad substantial enough to serve as a light meal.
I used my homemade, unsliced slab bacon here, and so was able to cut it into chunky lardons. (See more: You Can Make Bacon At Home.) If you are buying bacon, get the thick-sliced kind. Once you cook down paper thin bacon there isn't really anything to it and it doesn't work well in this application.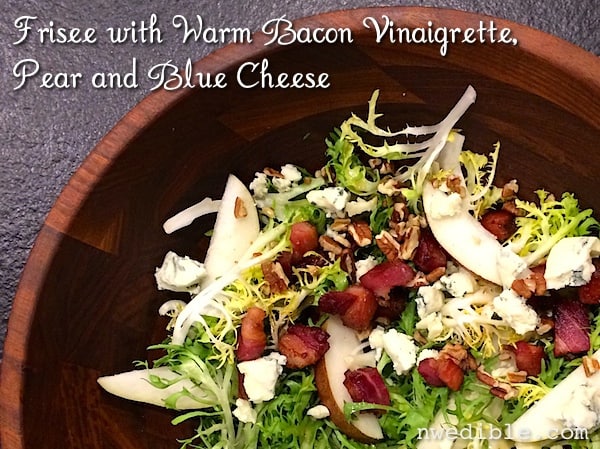 Printable Recipe for Frisée with Warm Bacon Vinaigrette, Pear and Blue Cheese
Frisée with Warm Bacon Vinaigrette, Pear and Blue Cheese
Ingredients
2 small heads frisée lettuce
4 ounces thick-cut bacon, diced into 1/2-inch lardons
1/4 cup minced shallots
1/4 cup tablespoons apple cider vinegar
1 tablespoon Dijon mustard
1-2 tablespoons maple syrup
Kosher salt and black pepper to taste
2 firm ripe pears, washed and diced
2 oz blue cheese, crumbled.
1/2 cup pecans, toasted and rough chopped
Instructions
Wash, trim and dry frisée. Place in a large serving bowl.
In a large non-reactive skillet, fry bacon lardons over medium heat until they're crisp and have rendered their fat. Transfer lardons to a paper plate to drain and set aside.
Pour out most of the bacon fat, reserving about 4 tablespoons in the pan. Add the minced shallots to the reserved bacon grease and cook until translucent, about 2 minutes. Add the apple cider vinegar, Dijon mustard and maple syrup to the pan. Whisk to combine into a warm, emulsified vinaigrette. Adjust seasoning to taste. Pour dressing over frisée and toss all together.
Scatter the reserved bacon, diced pears, blue cheese and pecans over the frisée. Serve right away.
Happy salad making, and thank you so much to everyone who came out to the Northwest Flower and Garden Show! I can't tell you how much it means to have friendly faces in the crowd. You guys make this kind of thing a lot of fun.