Apologies in advance for these cookies. Food this good should be harder to make, if only for the sake of our pants' size. One bowl easy and classic (yet somehow better) chocolate chip cookie decadence.
If I had known this recipe would be good enough to share I would have taken more pictures of the whole cookie-making process. I thought I was just whipping up a quick batch of cookies, not blowing my own mind.
Frankly, I'm not even sure what it is that makes these cookies so damn good. Somehow the texture, the amount of chocolate crammed into each cookie and the bite of salt that offsets the richness of it all just seems perfect to me.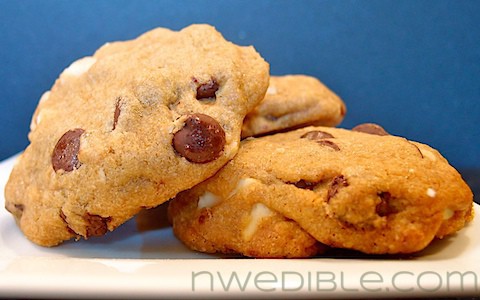 Dark Chocolate Chip and Macadamia Nut Cookies
adapted from Alton Brown, I'm Just Here For More Food, Chocolate Chip Cookie #10
Wet Stuff
1 ½ cup granulated sugar (I prefer organic evaporated cane juice, just because it tastes better)
¼ cup dark molasses
2 sticks (1 cup) butter, melted
1 egg + 1 egg yolk
1 teaspoon vanilla extract
Dry Stuff
2 ⅓ cup all purpose flour
1 teaspoon baking soda
1 teaspoon fine sea salt
Mix-Ins
2 cups best quality dark chocolate chips – don't skimp on these
1 cup chopped salted macadamia nuts
Preheat the oven to 375-degrees.
In a large bowl, whisk together the sugar, molasses, melted butter, egg, egg yolk and vanilla extract. Really combine everything – you want to whisk enough that the mixture lightens and thickens slightly, and the sugar completely loses it's graininess.
Measure the dry stuff into the same bowl. Just dump the flour, baking soda and salt right on top of the wet stuff.
Use a spoon or silicone spatula to stir mixture until a soft dough comes together and the flour is incorporated. Smoosh out any lumps of flour.
Add in chocolate chips and macadamia nuts. It will look as though the proportion of mix-ins to dough is ridiculously high. Just go with it.
Using a portion scoop or a pair of spoons, dish out cookie dough blobs onto a parchment or silpat-lined sheet pan. Make sure to leave them room to spread and slightly flatten cookie dough blobs with your fingers. With the portion scoop I use, I get 30 medium-size cookies from this recipe.
At this point, you can freeze the dough blobs and have them ready to go for future cookie-making mayhem. Just freeze until solid on the sheet pan, transfer to a ziplock baggie, and pull-out as needed.
Bake at 375-degrees for 15-18 minutes, until golden brown and cooked through but still soft. If you are baking from frozen, it may take an additional minute or two.
These cookies seem to keep very well in an airtight container. I actually thought they were better the day after baking. I have no idea what they taste like two days after baking because they didn't last that long.
Again, I'm sorry about this. I hope we can still be friends.
Psst…If you look below you'll find a green button that says "Print / PDF." If you want to print this recipe without all my extra yammering, that button will let you do so.