Kale Caesar Salad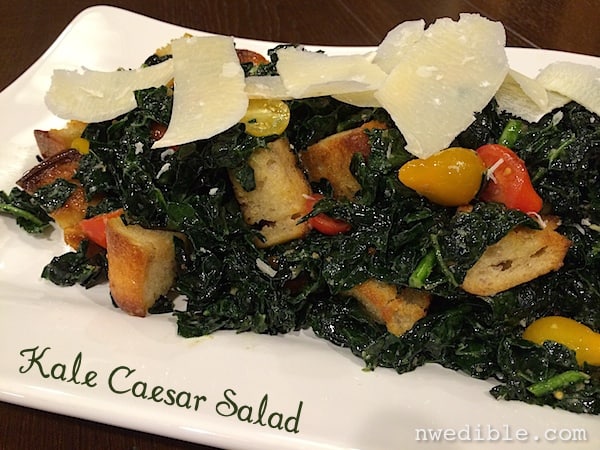 2 large bunches black Tuscan kale
1 tablespoon kosher salt
¼ cup shaved Parmesan cheese
1 cup cherry or grape tomatoes, halved (optional)
2 cups freshly made croutons
½ cup Caesar dressing, or more to taste
1 pound rustic bread (about ½ a loaf)
¼ cup olive oil
Kosher salt
4 whole anchovy fillets
2 tablespoons Dijon mustard
1 tablespoon balsamic vinegar
1 teaspoon Worcestershire sauce
2 cloves fresh garlic, peeled
½ lemon, juiced
½ cup olive oil
¼ cup freshly grated Parmesan
Kosher salt and freshly ground black pepper to taste
Remove the thick stalks from the center of the kale. Pile the leaves on top of one another and roll together. Cut the kale into thin strips. Place the kale strips into a colander set over a bowl and rub together with 1 tablespoon kosher salt. Let kale sit for 30 minutes. This will draw out some of the bitterness from the kale and make the leaves more tender.
After 30 minutes, rinse the kale well with cold water and spin to dry. Proceed with recipe.
While kale is draining, make the fresh croutons. Preheat the oven to 450*F. Tear or slice the bread into bite-size chunks and toss the bread pieces together with the olive oil. Season generously with kosher salt. Spread the croutons in an even layer on a parchment-lined baking sheet. Toast croutons, stirring occasionally, until golden, dry and crisp, about 15 minutes. Set aside to cool. Once fully dry and cool, croutons will keep at room temperature for about a week.
Make the dressing. Measure the anchovies, dijon mustard, balsamic vinegar, Worcestershire sauce, garlic, lemon juice into a blender or food processor. Add oil and blend on low speed for several seconds until dressing is smooth. Add in cheese and pulse to combine. Season to taste with salt and a black pepper. Dressing can be made up to two days ahead and kept refrigerated.
To assemble the salad, toss the drained kale together with the croutons. Add enough dressing to just coat, and toss with clean hands until dressing evenly coats kale and croutons. Add halved cherry tomatoes and toss very gently to mix. Transfer salad to plates if desired and top with shaved parmesan.