Roasted Cauliflower and Chickpeas with Tahini-Orange Dressing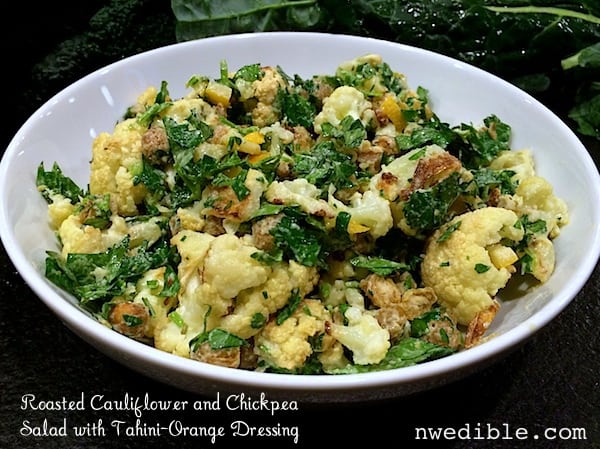 1 large head Cauliflower, trimmed.
1 cup cooked chickpeas, drained and patted dry.
¼ cup olive oil
1 bunch flat-leaf parsley, chopped
½ salt-preserved Meyer lemon, chopped into small pieces (optional, but very nice)
Kosher salt and black pepper to taste
¼ cup well-stirred tahini (Middle Eastern sesame paste)
1 tablespoon orange zest
juice of half an orange
juice of half a lemon
1 garlic clove, chopped
Kosher salt and black pepper to taste
Water as needed, 2-4 tablespoons
Preheat the oven to 450*F. Break or slice the cauliflower into florets and add to a large bowl. Add chickpeas to bowl with cauliflower, drizzle olive oil over both, season to taste with salt and pepper and toss to combine.
Spread cauliflower and chickpeas out on a parchment-lined sheet pan in a single layer and roast until cauliflower is tender and caramelized and chickpeas are crisp, about 25 minutes.
While cauliflower and chickpeas are roasting, make dressing. Blend tahini, orange zest, orange juice, lemon juice, garlic and salt and pepper together. Add enough water to make a nice, thick but pourable dressing. Dressing will tend to thicken as it stands.
When cauliflower and chickpeas are done, set aside to cool to room temperature. In a large bowl, toss cauliflower and chickpeas with salt-preserved lemon, flat-leaf parsley and enough Tahini Orange Dressing to coat. Season to taste. Go easy on the salt if you are using the salt-cured Meyer lemons.
Toss gently to combine.
Recipe by
Northwest Edible Life
at https://www.nwedible.com/cool-season-salads/