Frisée with Warm Bacon Vinaigrette, Pear and Blue Cheese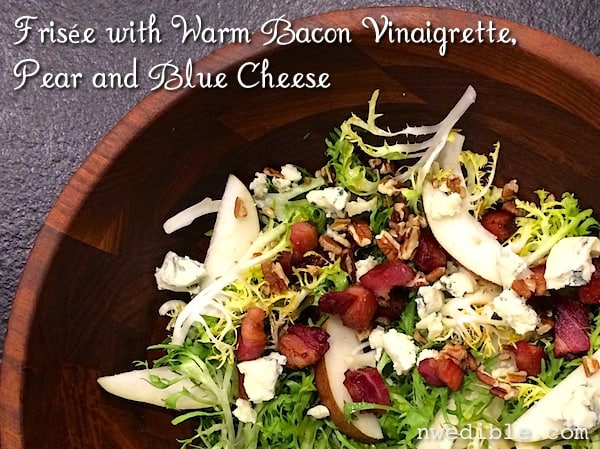 2 small heads frisée lettuce
4 ounces thick-cut bacon, diced into ½-inch lardons
¼ cup minced shallots
¼ cup tablespoons apple cider vinegar
1 tablespoon Dijon mustard
1-2 tablespoons maple syrup
Kosher salt and black pepper to taste
2 firm ripe pears, washed and diced
2 oz blue cheese, crumbled.
½ cup pecans, toasted and rough chopped
Wash, trim and dry frisée. Place in a large serving bowl.
In a large non-reactive skillet, fry bacon lardons over medium heat until they're crisp and have rendered their fat. Transfer lardons to a paper plate to drain and set aside.
Pour out most of the bacon fat, reserving about 4 tablespoons in the pan. Add the minced shallots to the reserved bacon grease and cook until translucent, about 2 minutes. Add the apple cider vinegar, Dijon mustard and maple syrup to the pan. Whisk to combine into a warm, emulsified vinaigrette. Adjust seasoning to taste. Pour dressing over frisée and toss all together.
Scatter the reserved bacon, diced pears, blue cheese and pecans over the frisée. Serve right away.
Recipe by
Northwest Edible Life
at https://www.nwedible.com/cool-season-salads/