Podcast: Play in new window | Download
Today on Grow Edible I talk homebrewing with NW Edible's very own Homebrew Husband. Nick covers the four basic steps of homebrewing and talks about how to use hops to get your ideal blend of aroma and bitterness. He explains the importance of temperature control in mashing and how brewers select for short chain or long chain sugars through temperature control. This podcast is full of great advice on how to craft a truly great DIY beer.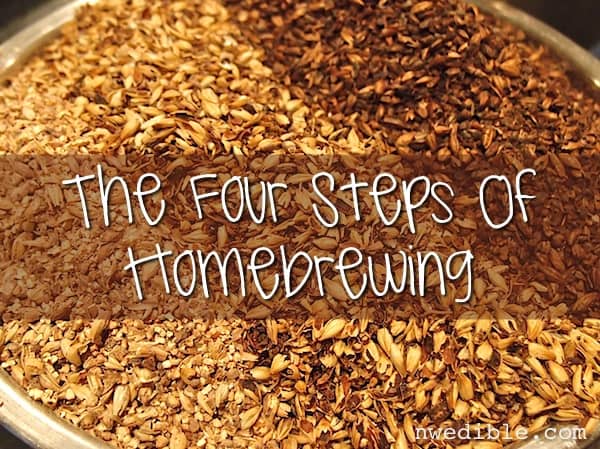 Show Notes
Today we discuss:
The four steps to making great beer.
What the heck is malt?
The importance of hops for adding flavor and aroma to beer, and how to control the bitterness and aroma in your beer by properly timing your hop additions.

Some of the history of beer and how the male dominated hobby of homebrewing used to be "woman's work."

Why carbonation is critical to the overall experience of drinking beer.
Homebrew as a living, developing ferment .
Additional information and resources for today's episode:
If you like this new podcast series, you might want to subscribe in iTunes or add the Podcast RSS feed to your preferred podcast reader. If you think I should keep this up, help me grow the podcast by leaving a good review or comment in iTunes – that really helps.
The theme music for the Grow Edible is Rodeo, graciously provided by the supremely talented Kristen Ward. You can find Kristen's music on iTunes and Amazon. Rodeo is off the Last Night on Division album – it's one of my favorites!
Perpetual hat tip to Erik and Kelly of Root Simple, the cool Godparents of the urban homesteading movement. Erik and Kelly put out a sharp and edutaining podcast in addition to writing great books, running a fantastic blog and generally spreading their urban farm wisdom far and wide. They graciously allowed me to steal their phrase "audio companion."