There are people who just want to be told what to do, and people who want to understand the why behind things. Since you are a reader of this blog, I will assume you are in the second group.
That's where Mastering Homebrew comes in.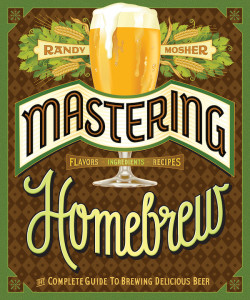 It is, unabashedly, a book for the brewer who doesn't just want follow instructions, but yearns to know why things work the way they do.
The author, Randy Mosher, has been writing books about brewing for two decades and I've been a fan for nearly as long. Mastering Homebrew is his latest and fourth offering. It is as hefty and audacious a book as the title suggests.
It covers everything you'd expect a one-volume hombrewing reference to cover, including that obligatory "your first brew" walk-through, a good selection of recipes both conventional and adventurous, chapters on techniques and ingredients and equipment and troubleshooting.
But what stands out is that, at every turn, Mastering Homebrew takes the opportunity to explain why and to encourage experimentation and creativity.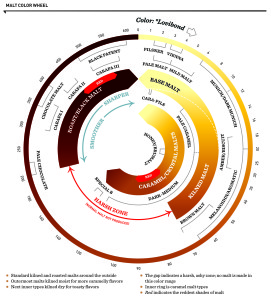 No part of the book shows this more clearly, or makes me happier, than Mosher's discussion of recipe creation. Sure, he covers the technical side of calculating gravity and gives fine descriptions of malt and hop characteristics. But it is more than just tables of hop acids and charts of malt extraction percentage. Mosher also talks about finding inspiration for your brew, then translating that vision into a recipe that works.
Mosher is a professional graphic designer, and Mastering Homebrew is that very rare achievement – a book that is both incredibly visually pleasing and dense with information. There are dozens and dozens of extremely well done illustrations that show while the text tells. It's an infographic-lovers dream.
Who This Book Is For
In truth, if all you are looking for is a few extract-brew recipes and a detailed step-by-step procedure, then this is not the homebrew book for you. But if you want to understand why things work the way they do, and learn how to put your own twist on flavor and method, then this emphatically is the book for you.
Mastering Homebrew has earned a place on my shelf as a (perhaps the) go-to for reference and inspiration.
Chronicle Books, the publisher of Mastering Homebrew, was kind enough to provide me with a review copy of this book, though I assure you my praise would be every bit as lavish had I bought it off the shelf.
They are also giving away two copies to lucky Northwest Edible readers.
Giveaway!
If you'd like to win your own copy of Mastering Homebrew, just leave a comment below, telling us what you'd most like to learn about homebrewing!
Two winners will be selected at random. Giveaway open to U.S. addresses only, I'm afraid, because of shipping constraints. Contest closes Tuesday, February 17th, at 10pm Pacific. Winners will be notified by email and have 48 hours to respond to claim their prize.