April is a month of direct sowing, first harvests, fast, noticeable plant growth, perennial beginnings and tons of blossoms. It's the first month of the year that reliably says spring is here. For many of us dedicated gardeners, April is like a gift from Mama Nature: we get to shake those indoor cobwebs off and get out there in soil that's finally warmed enough to not freeze our fingers off.
This is a month of hope and beginnings, it's an easy month to love. Here's what you should be doing this April in your maritime Northwest garden.

Printable At-A-Glance Grow-Guide!
We're all flipping busy, right? Wouldn't you love a one-page, at-a-glance, printable guide to what you should be doing in your garden this month? Yup, I thought so.
So, here you go – your April garden chores, in a form you can take into the garden and get all dirty. Click the image to download the PDF.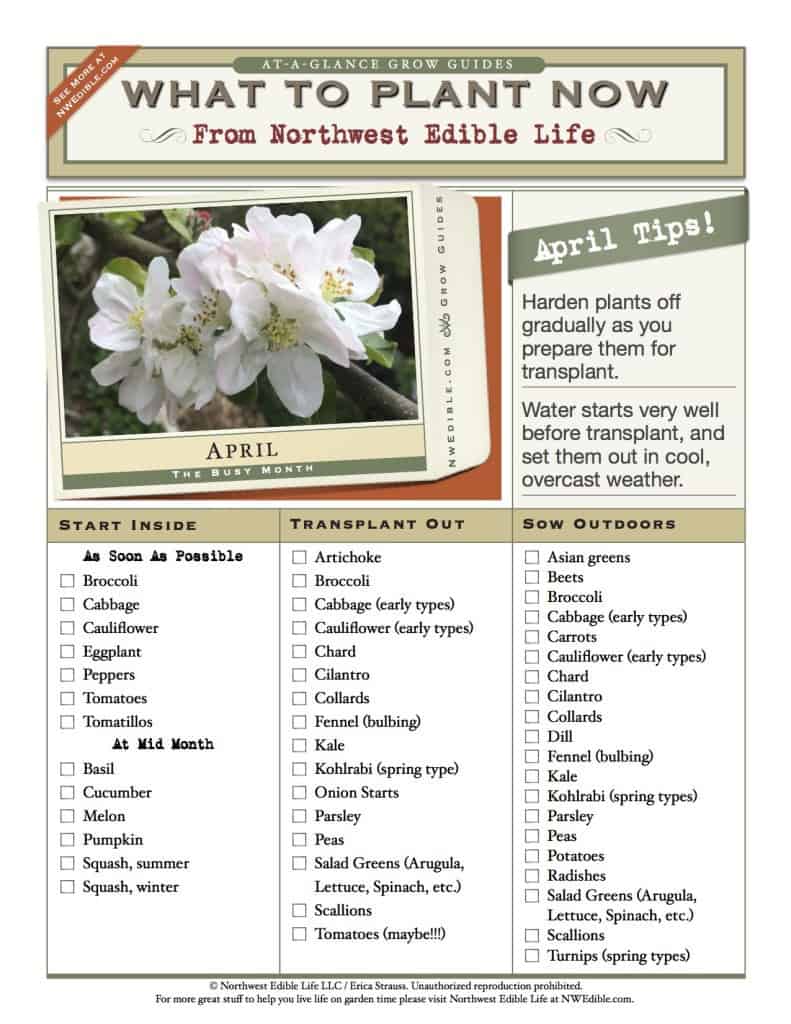 Plan and Purchase
By now your garden plan should be pretty finalized and you should have a general idea of what will be planted where. (Read more: Year Round Garden Planning.) Many of your earliest crops may already be sown or transplanted out.
Nurseries are full-to-bursting now with fruit tree, berries, edible landscaping shrubs, six-packs of cabbages and little starts of peas.
If you haven't been starting your own early season crops, you can put a spring garden in with purchased starts this month. It's just going to cost you a bit more. (Read more: How To Spot And Avoid A Crappy Seedling.)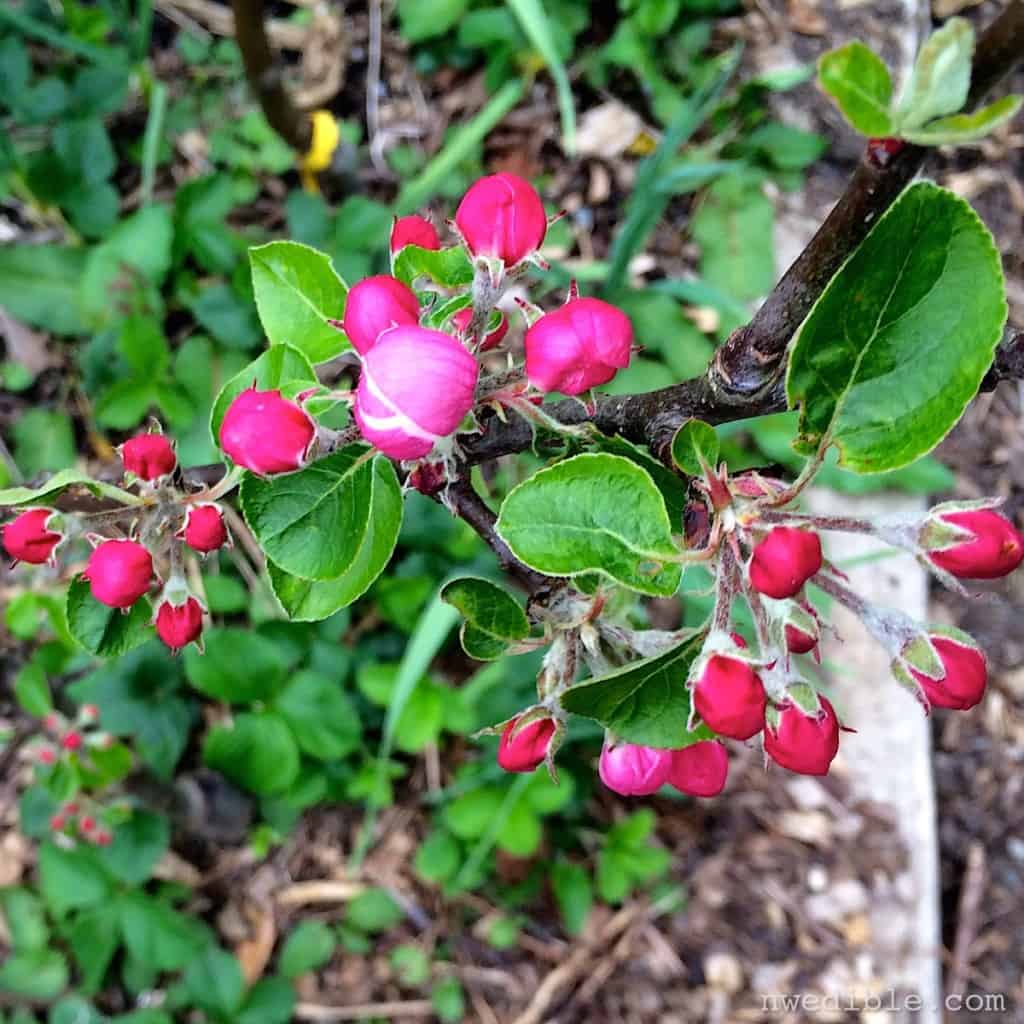 Last call for perennials!
Bare Root Fruit Trees
Bare Root Fruit Bushes, Rhubarb, Cane Fruit and Vines
Seed Potatoes
Asparagus
Start Indoors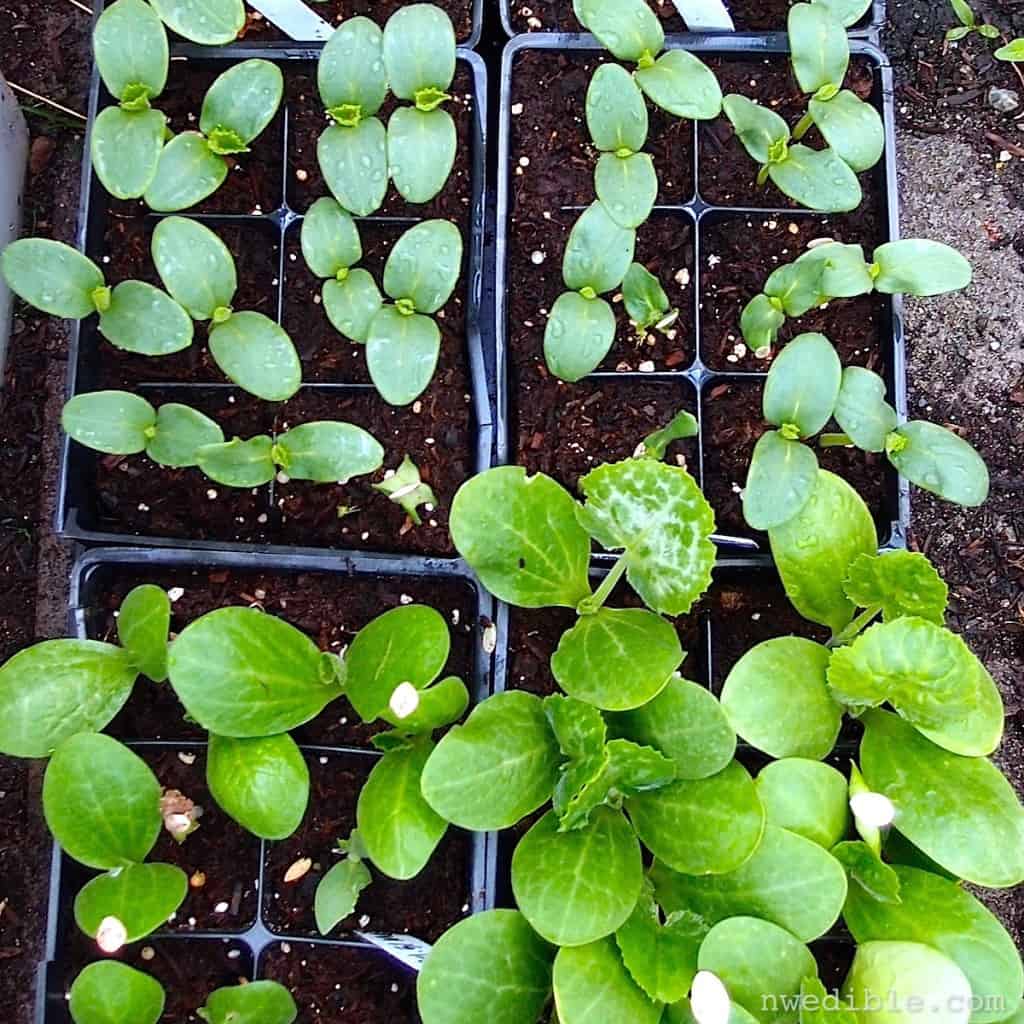 Many things can continue to be sown indoors through April, especially if you have a badass grow light. I upgraded to this T5 grow light and I recommend it highly – I get better, healthier, more rapid growth than I saw with my old T12 shop lights.
Brassicas
If you want, the brassicas can be started under lights, but at this point it's perfectly fine to sow them outside directly too. It's just what you like better. Slugs decimate my direct-sown spring plantings so I prefer to transplant. Start these as soon as possible for transplant out in late April or early May.
Broccoli – I really like Belstar.
Brussels Sprouts – I grow Brussels Sprouts as a cool season crop, and will start them in June to mature in mid-September for harvest through fall and winter, but if you want earlier sprouts, get going now.
Cabbage – Farao was the standout variety in my garden last year. Hands down the best spring cabbage I've ever eaten.
Cauliflower – A bit more finicky than other brassicas, give special attention to your cauli seedlings with consistent moisture and lighting.
Kohlrabi – I'm growing Lech this year, which performed better for me last year than any spring kohlrabi I've yet tried.
Nightshades
The name of the game here is ASAP. We are bumping up against the end of the window to start tomatoes and other nightshade crops and still get them to ripen before fall. But I just have a feeling this will be a good year for heat lovers, so I think it's ok to roll the dice this year. Plan on setting out 4-week old transplants in early May.
In general, small fruiting varieties are better in our climate than large fruiting ones. If you're starting this late, try cherry tomatoes, fingerling eggplants, and smaller hotter peppers for a reliable harvest.
Tomatoes – I'm experimenting with direct sown tomatoes this year. It'll probably bomb, but I'll keep you posted.
Peppers & Eggplant – Remember to use cool-climate cultivars. In the Maritime Northwest, I have good results with King of the North pepper and Little Finger Eggplant.
Leafy Greens and Herbs
Basil – start around mid-month under lights for transplant out about mid-May. Start a lot. It's basil, the Queen of Herbs!
At this point I think you might as well direct sow the rest of these outdoors, but if you want, you can start inside:
Swiss Chard
Salad Greens
Hardy Herbs – Think parsley, chives, fennel, chervil, oregano, dill, mint, sorrel, marjoram, lemon balm, pansies etc.
Cucurbits
These tender melon-family babies can be started indoors if you are careful not to jump the gun too much. Plant to start them maybe 3 weeks before you'd direct sow. Promise you will transplant them out into pre-warmed soil before they are even thinking of being root bound. That's key to successful transplant of the cucurbits.
Cucumber
Melon
Pumpkins
Summer Squash
Winter Squash
Other Stuff
Onions – You can buy plants to transplant out from your local nursery or a specialty supplier like Dixondale.
New to starting your own seeds? Here are some resources to help:
Sow Directly & Transplant Out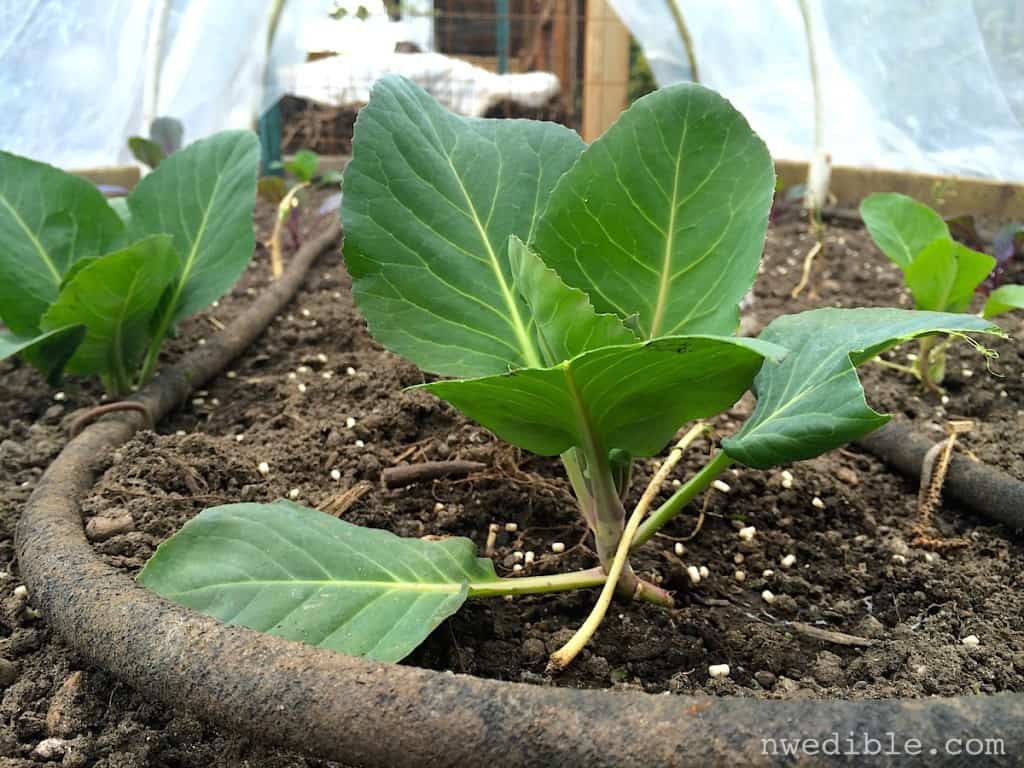 If February and March is the time for starting indoors, April is the months to sow directly outside, and to transplant out all those sturdy cool season crops you've been caring for inside.
If you have cloches in place over your beds, make sure to prevent heat build-up by venting them during the day, especially if it's sunny! Keep the ground moist enough to assist germination.
Brassicas
The important thing if direct sowing these crops now is slug protection. If you don't have ducks, get Sluggo. Use it. Transplants can also fall victim to those damned mollusks, so be on the lookout (preferably at night, with a sharp pair of scissors in hand.)
Broccoli
Cabbage (early types)
Cauliflower (early types)
Collards
Kale
Kohlrabi (spring types)
Nightshades
Normally, we wouldn't be talking about transplanting nightshades out until May. But if you have some season extension in place, like a cloche, or will protect your plants with a climate zone hack like a wall-o-water, I think we might be able to move tomatoes out to the garden in late April this year.
It's better NOT to push the heat-loving crops. Soil temps need to be above 50, and nighttime temps have to be up about 55 for tomatoes to be happy in the early season, so if you aren't sure or you're in a cool microclimate, be patient. Eggplant and pepper are happier at even warmer temps.

Legumes
Favas – any time and as soon as possible
Peas – Sugar Ann and any of the Sugar Snap varieties are great options, but all fresh-eating peas do very well in the Northwest.
Leafy Greens and Herbs
Go crazy. The time is right. Make like Demeter and scatter seeds everywhere.
Asian greens – Asian greens that are in the mustard family bolt at the drop of a hat at this time of year. If you grow them, harvest promptly.
Chard
Cilantro
Dill
Fennel (bulbing)
Parsley
Salad Greens (Arugula, Lettuce, Spinach, etc.)
Roots
These can all be sown at any time. Just make sure your soil is dry enough to rake to a fine tilth. Roots do best in deep, fluffy soil.
Beets
Carrots
Potatoes – The gardener tradition is to sow potatoes on St. Patrick's day (March 17th). They can go in anytime at this point. For best results, chit your potatoes before sowing fairly deep in loose soil.
Radishes – You want the super fast maturing spring types, like Valentine's Day Mix.
Scallions
Turnips – Grow the spring types at this time of year, like Tokyo Market.
Perennials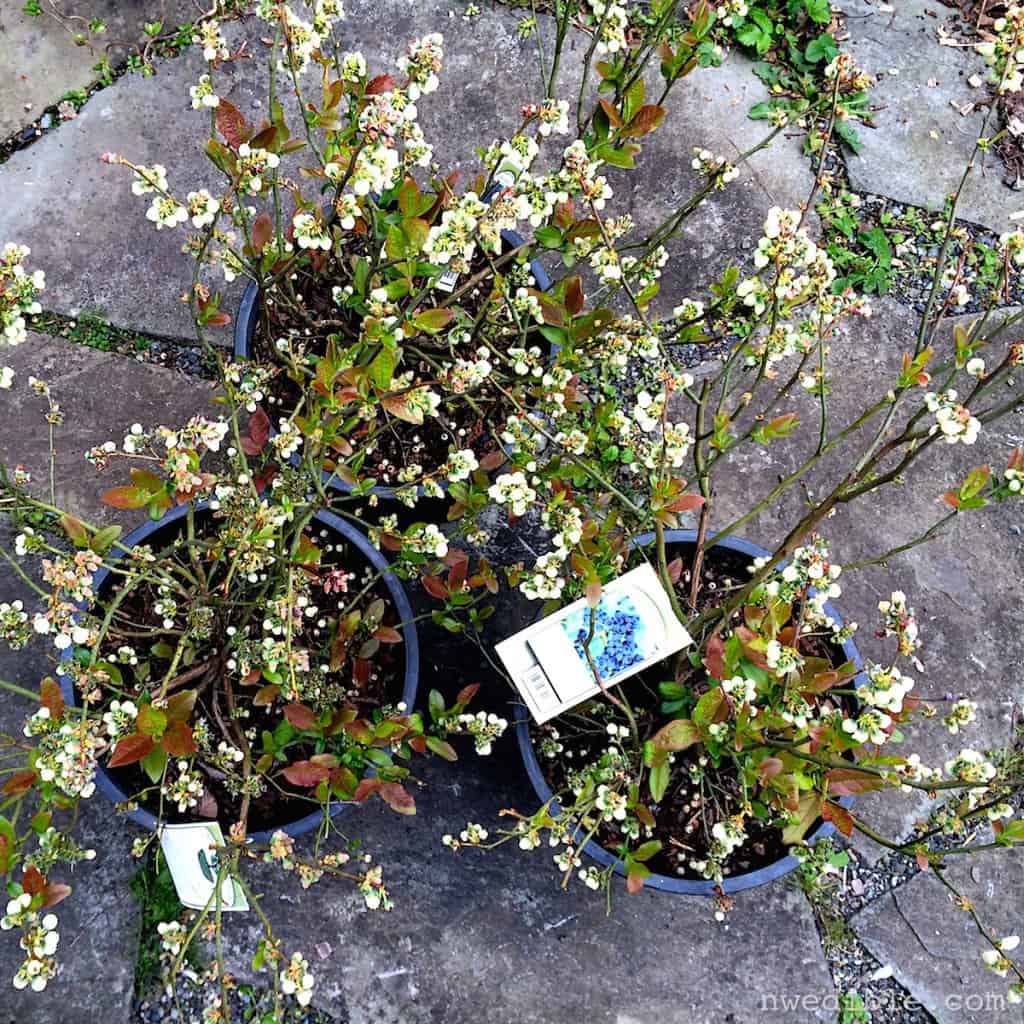 As long as the ground isn't waterlogged, bare root fruiting trees, bushes and perennials can all be planted out. The sooner you can get them in, the better. Don't let roots of bare root perennials dry-out or freeze.
Potted perennials, like the blueberry bushes I totally impulse bought (above) can go in any time.
Bare root fruit trees – these should be put into previously prepared ground while still dormant.
Bare root fruit bushes (currants, gooseberries, blueberries, etc.) – Apparently I'm trying to open a blueberry farm in the suburbs. It's getting ridiculous.
Bare root cane fruits (blackberries, raspberries, etc.) – I'm a big fan of Triple Crown Thornless Blackberry.
Asparagus crowns – check out my tips for better soil for asparagus before planting.
Rhubarb crowns – these can be had by dividing established plants. They are practically unkillable.
Horseradish roots – these can be invasive! It's a good idea to plant them in a very large container sunk into the ground to control their roaming. I didn't, so let's see how that works out, shall we?
Harvest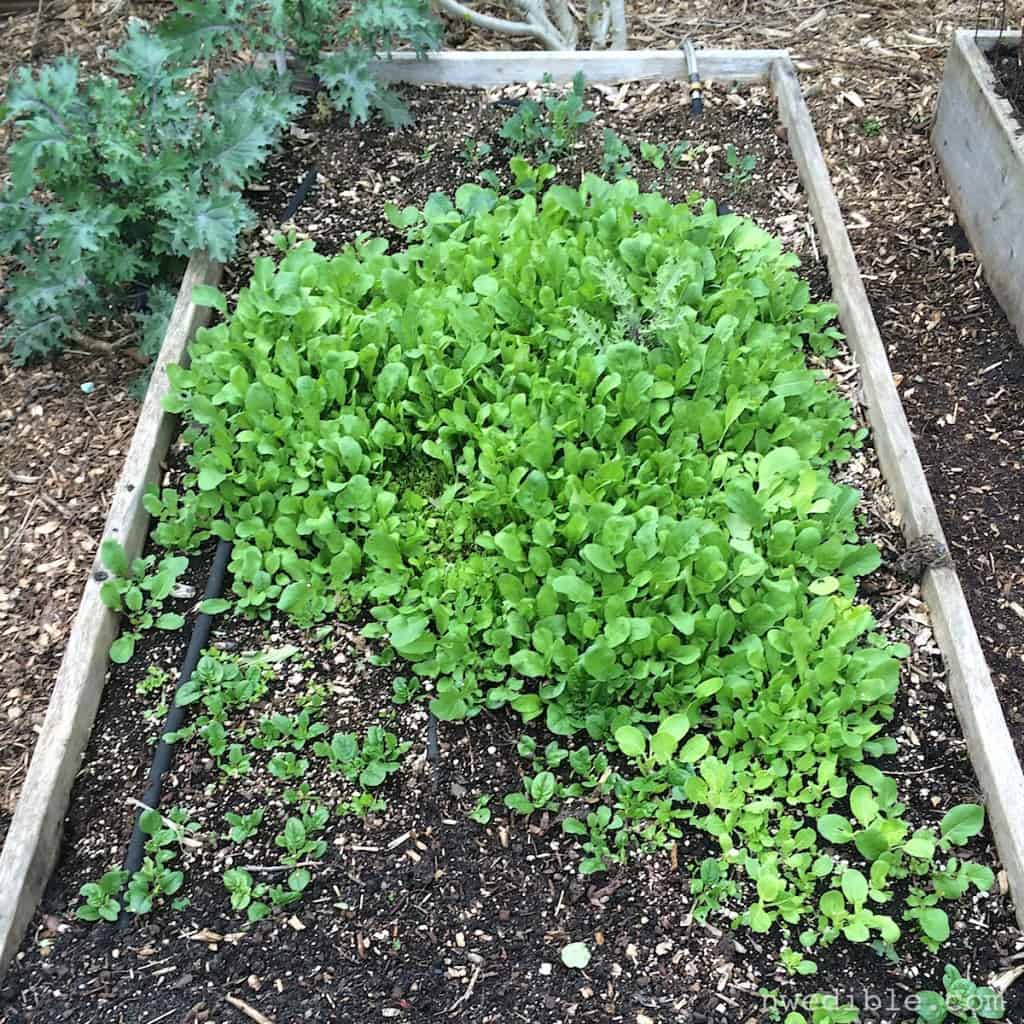 The goal of almost any vegetable that's survived an entire growing season and gone through winter at this point is to make seed as soon as is reasonable. Eat those kale shoots! Harvest any remaining overwintering root veg – they are probably bolting already.
Salad Greens – New season arugula and lettuce is coming on strong and we're already eating a salad a day. Spinach is lagging, but what can you do?
Asparagus! – Holy crap it's early! Eating raw stalks straight out of the garden.
Rhubarb – Harvesting for rhubarb simple syrup.
Sprouting Kale – eat kale florets like broccolini. (Read more: How To Harvest and Cook Kale Florets)
Jerusalem Artichokes – This moderately aggressive perennial is starting to shoot, but can still be eaten if your digestive tract can handle it.
Chard – If yours overwintered it's putting on nice new growth you can harvest.
Turnips and Rutabagas – The unopened florets are good to saute.
Herbs – chives, rosemary, fennel, thyme, oregano, sage…all the perennial herbs are in good shape and putting on loads of new growth. Grow herbs! (Read more: The One Edible You Must Grow)
Pin This Post
It'll make all your tomatoes ripen perfectly this year.*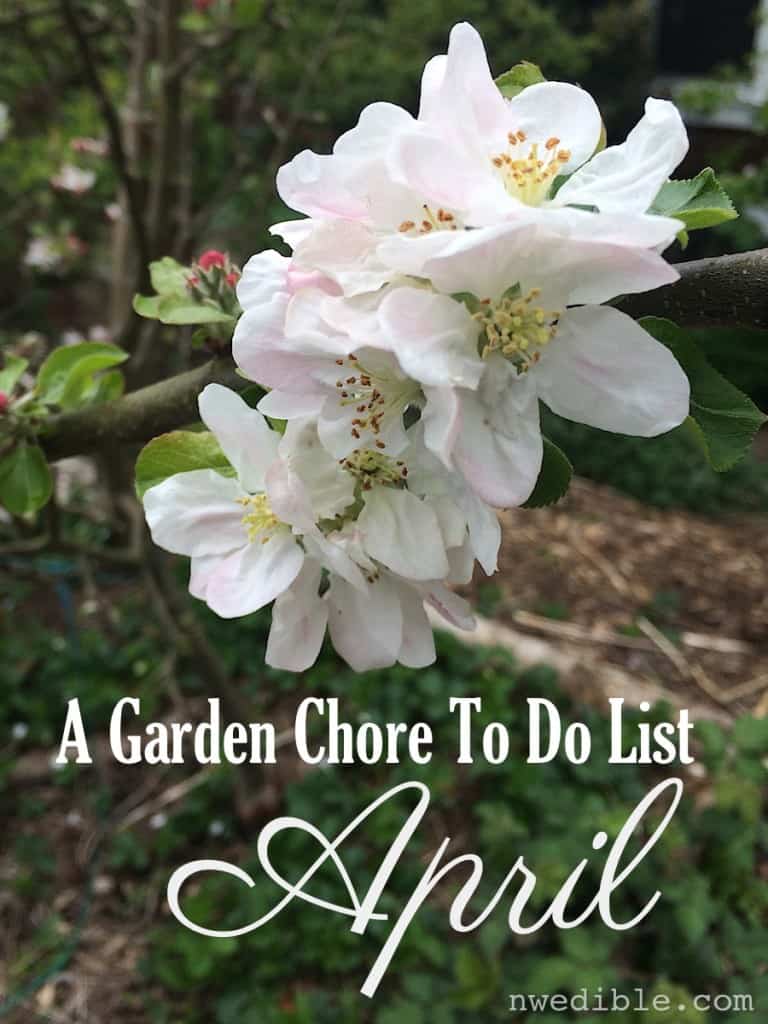 *Not really. But when you share these posts, you are doing a huge amount to keep this blog going. Thank you!
How is your April garden this year?