[eshop_addtocart]
Get your copy of the best damn garden planner around! Designed for vegetable gardeners by a vegetable gardener, The Garden Planner & Journal includes everything you need to get organized, get planting, and make your edible garden the best it can be.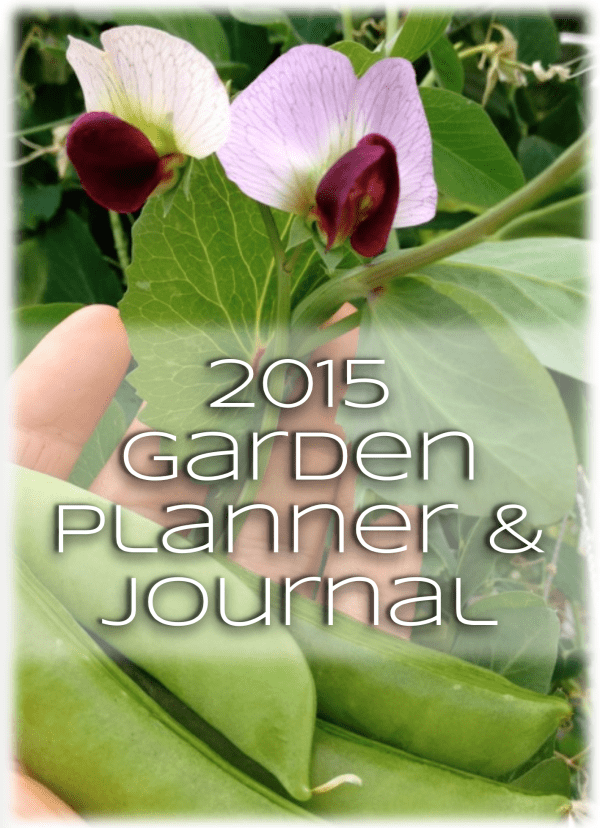 Updated for 2015, The Garden Planner & Journal is a downloadable, all-in-one garden planner, tracker and journal. It was designed for vegetable gardeners by a vegetable gardener, and contains everything you need to keep detailed planting and harvest records.
New 2015 Bonuses!
NEW! To say thank you to my awesome customers, the Garden Planner now comes with free bonuses to help you grow even more, all year round!
1. Grow Year Round: Gardening in 4D
The step-by-step instructions in this detailed booklet will show you how to make year round garden planning really work.
2. Add Months To Your Harvest: Season Extension
From greenhouses to low tunnels, this booklet describes all the major techniques year-round gardeners use to keep the harvest going. Also included: a detailed look at how to put together your own low tunnel cloche, and how I protect my crops through the winter.
3. Free Organic Heirloom Seeds!
A generous offer from my friends at High Mowing Organic Seeds – buy any 5 seed packets, and they'll send you a packet of Danvers heirloom carrot seed absolutely free. All High Mowing Seed is absolutely top quality, 100% Certified Organic, verified GMO-Free, and sent to you with free shipping every day. This offer expires soon, so don't wait!
4. Printable DIY Seed Starting Mix
This is the mix I blend up to grow my own seedlings, and they love it! If you grow a lot of seedlings, print this one-page reference sheet out, take it with you to the garden center and get what you need in bulk. You'll never buy those overpriced little bags of seed starting mix again.
Grow More Great Vegetables
Proper planning and record keeping are essential if you want to harvest more from your garden, hit critical planting windows, cut down on unnecessary expense and come to understand the needs and timing of your own garden. The Garden Planner & Journal will help you do all that – which mean you'll successfully grow more great vegetables.
Contains everything you need to get organized and stay organized through an entire year of gardening and beyond.
Plan garden projects so you save money and get the results you want the first time – with less work and less messing around!
Use my ultra-simple crop rotation method to help build soil fertility and give vegetables what they need – and what they don't – with less work and less confusion!
Track your garden in the way that makes sense to you – using plant profile sheets, checksheets, journal pages, calendar sheets or whatever combination works for you. The Garden Planner & Journal is completely adaptable to your needs and organizational style!
Stay inspired with gorgeous, full-color Section Dividers and Covers, and a modern, gender-neutral design (because not all gardeners want a pink rose motif on their record-keeping!).
Landscape layout gives you more room to record your essential gardening tasks.
Use The Garden Planner & Journal year after year! Cover pages for 2015, 2016 and 2017 are included with the download, and the date-free design of all the forms and log sheets makes this the last Garden Journal you will ever need to buy.
Daily and Weekly Garden Log Sheets in multiple layouts so you can free-journal in whatever format is right for you!
Finally! A Real Garden Organization Solution
I designed this journal because I wanted a comprehensive, simple, stylish, flexible way to record my seed-starting, planting, harvesting and garden project activities but was unable to find anything on the market that suited my needs.
Frankly, most of the garden journals I looked at were pretty useless. I wanted something functional and helpful; something that would help me grow the best edibles possible, year-round. I wanted everything in one place – no more random pieces of paper and notes in the margin of seed catalogs!
And finally, I wanted it to look good – to remind me of the beauty of an edible garden even in the depth of winter.
The Garden Journal & Planner is functional, complete and attractive.
Features of the Garden Journal & Planner
Full-color Cover Sheets for 2015, 2016 and 2017 and spine label inserts for each year in three different sizes.
Full-color Section Divider Sheets so you can quickly and easily find the information you need within your Garden Journal & Planner.
Garden Planning Grid-Paper Sheets on ¼-inch scale with common rectangular, square, and circular/keyhole bed templates included, so you can design (or redesign!) your garden beds as many times as you like with ease.
Planning sheets and logs for all the essential tasks of gardening including Project Planning, Seed & Plant Purchasing, Crop Rotation, Seed Starting and Transplanting, Pest and Disease Management, Soil Testing and Management, Harvesting, and Orchard Care.
Individual Plant Profile Sheets, including room for a photo, sketch or seed packet.
Monthly Checklists, Monthly Calendars, and Journal-style Observation Logs. Record and organize your garden activities the way you want to – use one, all, or a combination of sheets and forms to create the record keeping and journaling system just right for you and your garden.
Reflection Sheets to ensure each gardening year is better than the one before – record your reflections and note what worked and what could have worked better.
Garden Expense Tracker so you can keep an eye on your actual gardening costs.
Complete flexibility – need more seed starting log sheets? Just print them! Not interested in the calendar sheets? No problem – this is your Garden Planner & Journal and you can customize it just for your needs.
Full instructions on how to set up The Garden Planner & Journal, which you can also read in full here. It's easy – just print out the sheets, logs and forms (some or all, as your garden requires) included in this 111 page PDF, hole-punch the pages and add them to a 3-ring binder. For the best possible organization, I recommend you also have on hand several plastic sheet protectors for the Section Divider Sheets and a set of commercially available 12-month tab dividers. (Binder, sheet protectors and 12-month tab dividers are, obviously, not included in this PDF download.)
100% Downloadable – no waiting!
The Last Garden Planner You'll Ever Need
After a lot of thought, I decided to make this updated Garden Planner & Journal year-free. What this means for you is that you can keep using it, year after year. When you need more sheets or forms, just print them. It's that simple.
Buy it once, and you can use this tool forever – there are no new books to buy, no software to update, no subscription to keep paying for. I've been selling this Planner for four years, and I stand behind my commitment that your one-time purchase is for life.
Periodically I update and improve this planner, incorporating suggestions from other edible gardeners – everyone from professional market growers to beginning hobby gardeners has helped me make this the most adaptable garden organization tool available.
Your purchase gives you the ability to always download the most recent version of the Garden Planner & Journal!
Just email me and I'll make sure you can download the most up-to-date release. Because there is no limit to the copies of The Garden Planner & Journal you can print for your own private use, this could literally be the last garden organization tool you ever buy.
The Garden Planner & Journal is truly a labor of love. It is the solution to my garden organization needs and I hope it will be your solution as well. If you have feedback or a suggestion for a future edition, I want to hear it!
You can reach me anytime at [email protected] Thank you so much for your purchase and for supporting my website, Northwest Edible Life. Happy gardening!
Thank you,
Erica
[eshop_addtocart]