The season of seed starting is upon us!
High Mowing Organic Seeds, a seasonal sponsor of this blog and purveyor of the best damned seeds you can buy, wants to help you get your seed starting off on the right foot.
They are giving one lucky reader a $25 gift certificate good for any of their 100% organic, non-GMO verified seeds and one of their complete seed starting kit. The kit includes a standard solid propagation tray, 50-cell planting insert, propagation dome, and 6 quarts of high quality organic seed starting mix from the Vermont Compost Company.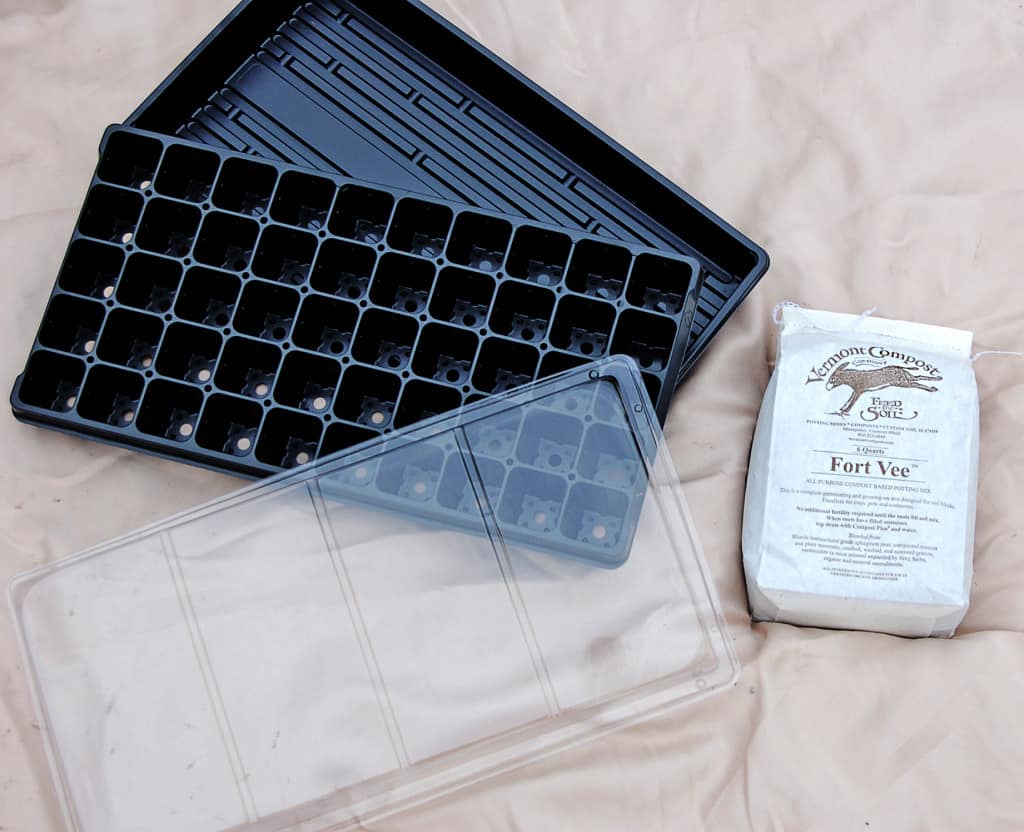 The total retail value of this giveaway is over $40, and it includes everything you need to grow your own high quality seedlings. (Well, except a good strong source of light. You have to provide that yourself.)

I'm going to tell you how to enter in just a second, but first I want to tell you a story about seeds. Let's call it…
There And Back Again: An Heirloom's Tale
Seed breeding is a funny thing. It used to be that some old farmer or grandma kept the best performing or best tasting or most healthy of a crop for next year's seed, and in this way the variety the farmer or grandma wanted was improved on site. The varieties we now call heirlooms were often developed this way, with a family or group keeping seeds from the plants that were best performing in their region.
Today, heirlooms have a certain romantic cache, but there is nothing magic about them. They are simply stable, open-pollinated varieties that someone thought was great enough, to save for long enough, that they've earned their place in history. Heirlooms by definition can be maintained on the farm where they were grown, getting ever more adapted with each generation.
Hybrids have been understood since Mendel started playing with his peas in 1860, but weren't produced at any scale until the 1930s. Hybrid corn was the first major crop to be marketed at farmers, and the increased yields of the hybrids over the open-pollinated strains took the farming world by storm. In 1930, there were essentially no fields of hybrid corn grown in the US. By 1940 half the fields in the corn belt were grown with hybrid seed. Now, 99% of corn grown in the US is hybrid.
As more crops became commoditized, the work to make more and better hybrid varieties followed suit. Wheat, cotton, soy, peanuts and many other crops are primarily hybrid now. The focus on variety improvement shifted so strongly to hybridization work that many seedsmen stopped putting in the time, energy and effort to improve the old open-pollinated varieties. And farms changed too; the average farmer now isn't saving his own seed or making those year-over-year decisions that will help nudge his strain to better local adaptation.
Now I hasten to say, there is nothing wrong with hybrids. I like and grow many hybrids myself because they do offer vigor and reliability. But hybrids are expensive, and if you are growing out acres of plants from hybrid seed, the seed is a huge cost. And you can't save seeds from hybrids, so farmers and market growers who commit to hybrid varieties have to go back to the seedsman for next year's seed.
Growing Future Heirlooms
High Mowing has long supported the development of what they call "future heirlooms" – improved open-pollinated varieties that have those beloved classic heirloom characteristics – flavor and tenderness – along with desirable modern characteristics like broad disease resistance, improved yield and adaptation to organic growing conditions.
They support and work with several organizations, including the Organic Seed Alliance in Port Townsend, WA., to get these future heirlooms into the hands of growers and gardeners who want better, more consisted, open-pollinated organic seed they can take home and grow with, year after year.
Improved OP's can in many cases offer the same quality and uniformity as hybrids, but at a fraction of the cost, and they have another important benefit: growers can save the seed and adapt the variety over time to thrive in their unique locations. This continued selection increases seed biodiversity and strengthens our food system as a whole.

-Sophia Bielenberg, High Mowing Organic Seeds
This year High Mowing is offering two 2015-release future heirlooms. They are the only seedhouse in the country selling Who Gets Kissed? organic corn and one of only a handful selling Abundant Bloomsdale spinach.
Who Gets Kissed?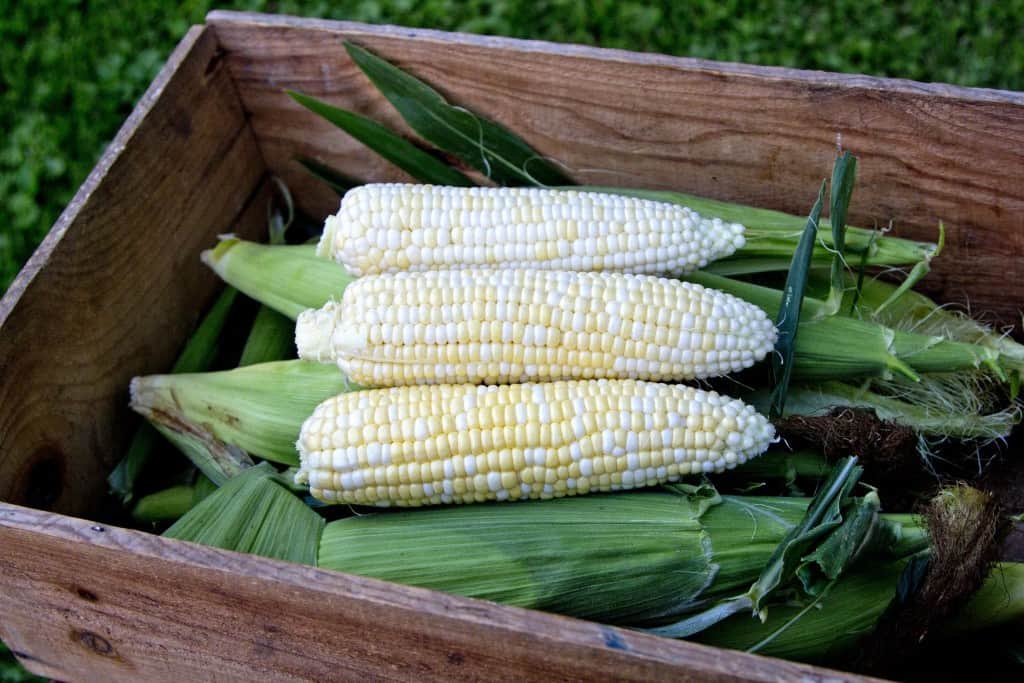 The Organic Seed Alliance tells the story behind the new Who Gets Kissed? organic sweet corn:
The story of the new variety's development starts with Minnesota farmer Martin Diffley. Diffley couldn't find an organic sweet corn variety with adequate vigor and that tolerated his farm's cool soils. He approached Dr. John Navazio, OSA's senior scientist at the time, who put Martin in touch with University of Wisconsin–Madison sweet corn breeder Bill Tracy. Tracy was already selecting for cool soil emergence in sweet corn, and a collaborative plant-breeding project emerged.

'Who Gets Kissed?' is an open-pollinated sweet corn variety with yellow and white kernels that yields well, tolerates cool soils, and is resistant to common rust and corn smut. It also demonstrates superior flavor and sweetness.

"Most of the sweet corn varieties in the marketplace that demonstrate similar traits are hybrids," says University of Wisconsin-Madison graduate student Adrienne Shelton, who has worked on the project as a member of Tracy's lab. "Hybrids are developed to be genetically uniform, where the ears are the same color and same size, and they mature at the same time. Who Gets Kissed? has similar traits, but was developed for organic growers who appreciate a more diverse, open-pollinated sweet corn."
Abundant Bloomsdale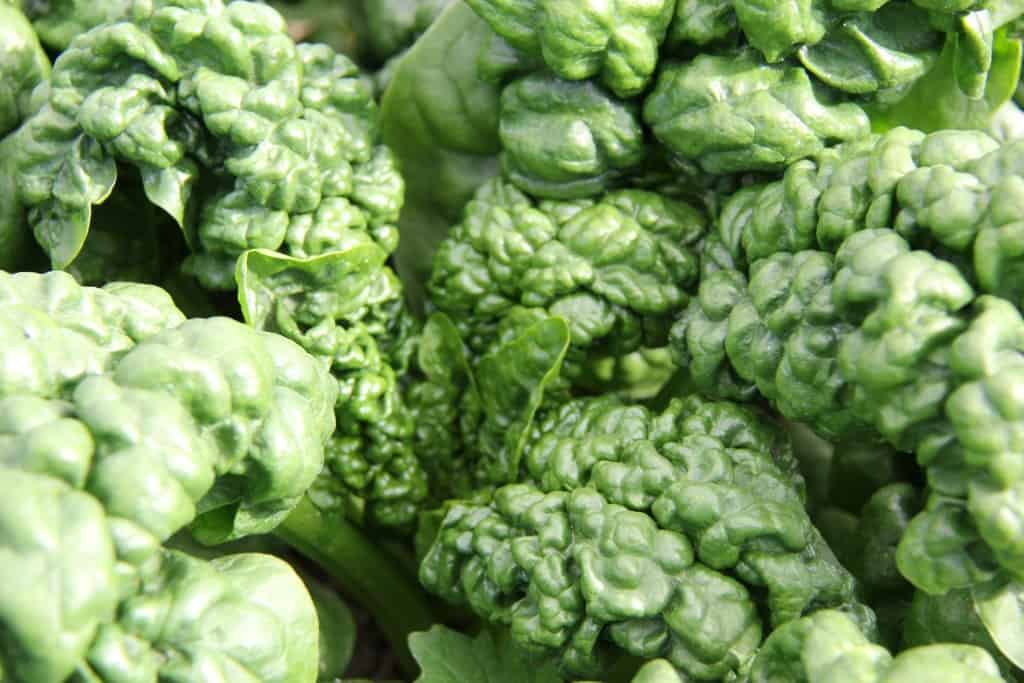 Now this is some seed I'm excited about. All Pacific Northwest gardeners know about Bloomsdale Savoy. It's a great old variety of cold hardy spinach with good flavor. But it's fallen out of favor commercially as hybrid spinaches have been developed with greater disease resistance.
The Organic Seed Alliance, in partnership with several local Puget Sound area farms, has bred the greater disease resistance of another spinach variety – Evergreen – into the Bloomsdale flavor profile. This isn't a hybrid. The new Abundant Bloomsdale strain was grown out and selected for 8 years before the seed was ready to release:
After 5 years of interbreeding, 130 offspring of the original two varieties were selected as representatives and were allowed to pollinate freely at Midori Farm. Of these, seeds were saved from 67 female plants – what would become the "progeny families", each getting its own row in which to grow in 2012. And finally, 5 of these "families" were chosen to be grown out in 2013 for final selections. The variety was released to the public in 2013—8 years after the project began—and just in time for the 10th anniversary of the Organic Seed Alliance!

Sophia Bielenberg, High Mowing Organic Seeds
The result promises to be a wonderfully organically adapted, disease and cold resistant spinach. I'm going to be growing Abundant Bloomsdale this fall. I'm excited to report back.
So, it's been 85 years, but the attention of a few awesome seed breeders have gone there and back again to open-pollinated varieties. This could be a pretty fascinating tale. I hope I live long enough to see how it finally wraps up.
The Giveaway! Enter To Win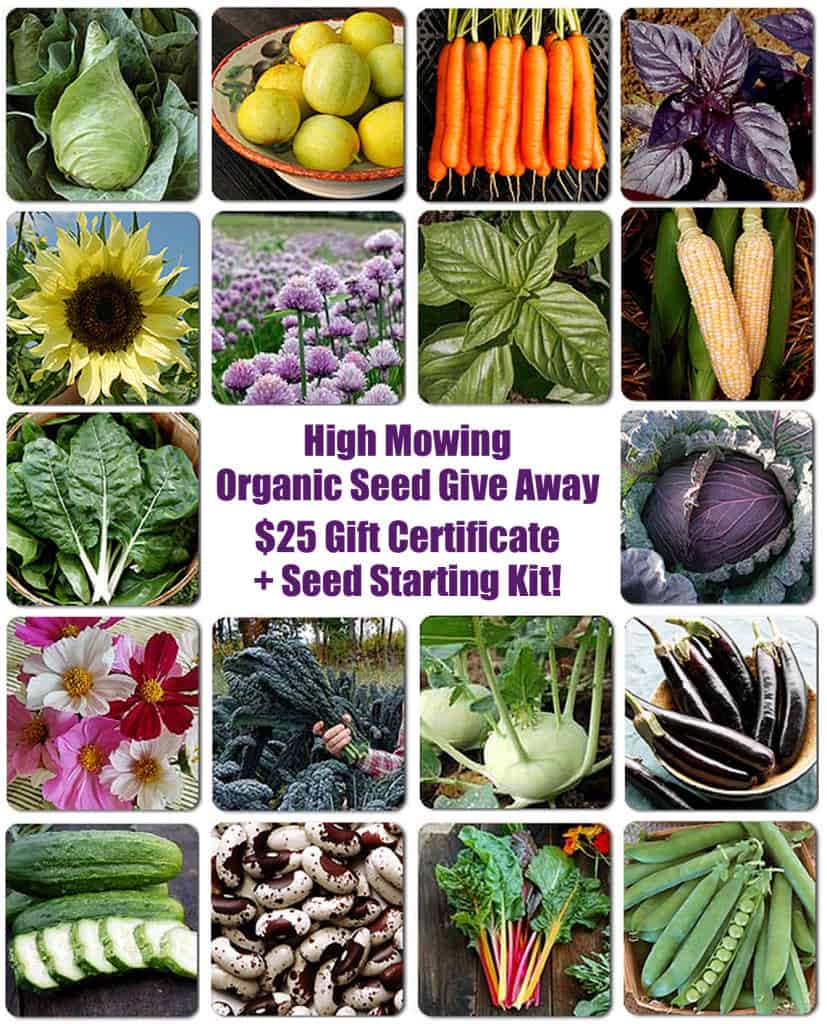 Okay, time for YOU to play seedsman or seedswoman right in your own home. To enter to win a $25 gift certificate to High Mowing Organic Seeds AND the complete Seed Starting Kit, just tell me this:
If you win, what two varieties from the High Mowing Organic Seed collection would be on your must-have list?
Head on over to High Mowing Organic Seeds, take a look around, then come back here to leave a comment below with your top two choices.
Contest open to addresses in the US and Canada. Open until Wednesday March 11th, 8 pm PST. Winner will be notified by email and shall have 48 hours to respond to claim their prize.
Enter in the comments below. Good luck!