Call me the Crappy Composter. I won't argue. It's true enough: I never quite manage to get the ratio of greens-to-browns quite right, I'm too lazy to turn the stuff, and I don't have the patience or property required to build up perfect piles.
So when it comes to composting, I need all the help I can get. I have discovered that chickens, with their perpetual scratching and pooping, are great little compost helpers, so I delegate most of the composting process to the girls.

We feed most of our garden and kitchen scraps to our chickens, and the chickens make compost, and then that compost feeds the annual vegetable beds which in turn feed us.
The Compost Problem
Just one problem: I didn't have a way to finish the chicken compost in a way that would make it safe to put directly onto the garden beds.
My first approach was to just not worry about it. I piled litter from the coop floor directly on the garden beds and just hoped no one got a salmonella salad. Happily, it worked out ok – no one's gotten sick – but it took 4 to 6 months for the coop litter compost to fully break down and sometimes there was the distinct smell of anaerobic composting happening.
This was not ideal.
The Failed Solutions
There wasn't anywhere to mound the compost in my extremely tight, production-oriented garden that didn't involve hauling the coop liter to the other side of the house and back.
So, I started piling up all my chicken coop litter in a corner of the chicken's run as a kind of "finishing" station for the stuff. The chickens were so grateful for their giant new play mountain, and immediately climbed up, scratched down, and re-spread the compost out all over the run.
Sigh. Should have seen that coming.
So I piled the proto-compost up again, this time building up a wire cage around the compost, and covering the thing with a scrap of plastic. Soon I noticed a lot of rogue chickens wandering my yard. That was weird, the fence was tall enough to…
Ugh. They were hopping onto the compost pile, and from there over the fence and into my garden, where they were eating every green thing in sight.
Sigh. Should have seen that coming.
I got all the chickens back into the run, and built a wire roof over the compost heap. It was of highly sketchy construction and lacked anything like aesthetics, and came this close to poking my husband in the eyeball, twice. But, it did the trick, keeping the chickens from using the compost heap as their personal launching pad.
So everything was working alright until the "roof" sprung out and collapsed on one side, pinning one hen inside the compost cage until I could untangle all the wire involved in this disaster of an experiment and rescue her. (She's fine, don't worry).
A Better Solution
I was thinking it was time to just give up and just go back to my salmonella roulette approach, when Steve from a garden company called Mantis dropped me a line, inquiring about blog sponsorship.
Mantis makes all kinds of things for gardeners – hedge trimmers, snow blowers, garden carts and more. But they are best known for their backyard-scale tillers and their compost tumblers.
Steve offered to send me a Mantis ComposT-Twin ComposTumbler to try out and it was like God rays streamed down through the clouds as I immediately saw the solution to my chicken litter compost problem.
A secure compost tumbler, positioned inside the chicken run, would achieve three critical things:
It would act as a finishing station for the coop litter, allowing me to rapidly convert the coop litter into safe finished compost.
It would preserve every square foot of run space for the hens. Because the tumbling composter is up on a stand, the chickens can continue to utilize the space under the composter for scratching, pecking, and otherwise doing their chicken-y things.
It would stop Chicken Run style escape attempts. The smooth, round construction of the tumbler isn't something the chickens would want to hop onto, and so my garden would remain un-eaten.
"Sign me up!" I told Steve, and he very generously sent me a Mantis ComposT-Twin compost tumbler to review.
Assembly
The compost tumbler arrived in three separate boxes, any one of which would have been enough to make it clear: this was a composter with gravitas!
We started putting the ComposT-Twin together, and it was clear that this thing is built like a tank. The packaging proudly proclaims "Made in the USA" and what's inside delivered on that implication of quality design and production. The primary components are all powder-coated steel or (very) heavy gauge plastic.
I've never seen a metal composter before. Assembling it was like building a small rocket. It was pretty cool.
The ComposT-Twin went together without any forcing, fiddling, or "close-enough-ing," all highly appreciated signs of quality design and construction. Unlike a lot of some-assembly-required products we've had to build up, at no point did we have to break out channel locks to bend something into place, or grab a pack of 40-grit to sand off excess paint so get parts would fit.
Assembly took a little less than two hours, including pauses to chat with curious neighbors, refill our glasses of homebrew, and allow our son to climb inside his new rocket ship.
We built the composter up in the driveway and then carried the thing into our chicken coop after it was all done. I'd recommend this – you want to put the ComposT-Twin together someplace level, with room around you to spread out the parts.
80% of the assembly only needed one person, but I'd definitely want to have a helper on call for a few crucial moments. Follow the directions carefully and pay attention to the details of the illustrations and you shouldn't have any trouble identifying the right bolts, nuts, etc. for each step. It helped to spend a couple of minutes looking the various components over and having a mental inventory of what all was going to be involved.
The Results
The resulting device is honestly kind of a joy to behold. It took us a few days after the ComposT-Twin was assembled in our driveway to move it back to the chicken run and in that time no less than 5 curious neighbors stopped to ask about. Much Oooohing, much ahhhhing.
This isn't one of those typical knock-together composters you see in the big box stores, the kind of flat-packed nightmare that can only be emptied by having it fall apart, and that, somehow becomes a fly breeding ground no matter how hard you try. The Mantis is an attractive, functional, sturdy product that gives all the indications of being built for the long haul and the constant use of a real working garden product.
Heavy duty latches secure the chamber doors against scavengers and the action of tumbling and built in vents keep everything properly ventilated for optimum hot composting.
Slightly grand, but in well chosen brown and black, it blends into the tones of the yard. It isn't a composter that needs to be hidden away out of sight, and that's a big advantage in a high density urban or suburban neighborhood. You can put it someplace convenient without worrying about nosy neighbors tut-tutting about a your "composting eyesore."
The biggest advantages of the Mantis ComposT-Twin – heavy duty, solid construction and generous size, are also it's biggest disadvantages. All of this quality and metal comes with a very hefty pricetag, and when the composter is full, you need to put a bit of muscle into turning it despite the extremely sturdy gearing system.
Working with the ComposT-Twin is simple enough: you open one of two loading hatches, toss in the day's compost, and give the handle a few cranks to tumble the whole thing around. All-important aeration and mixing is taken care of with no extra steps and no garden fork required.
The "twin" part of the T-Twin system is that there are two side-by-side chambers, designed so that at any moment one is "active," filling up with your food or garden waste, while the other chamber is conditioning, closed off, for a few more weeks.
When you need some fresh compost, just empty the conditioned chamber out. The two sides then switch roles, and fresh compost goes into the newly emptied side while the other chamber gets time to condition.
Unloading the finished compost is easy thanks to the Mantis' height – just scoot the nose of a wheelbarrow up under the tumbler, open the load-fill hatch on the side that's ready to empty, and fill 'er up.
This same height could make this composter awkward for shorter folks and kids to reach the latches or get the day's kitchen trimmings inside an almost-full chamber. The latches are also quite stiff. While I suspect they will relax with time and use, at the moment they require decent hand strength and some care to operate.
I've been using the Compose-Twin for over a month now to finish the coop litter, and I'm very happy with it. The folks at Mantis claim you can make compost in 14 days with their compost tumblers. Honestly, I think that's pretty ambitious, but in a month the difference between what went in and what came out is impressive.
This is not the right composter for everyone – I wouldn't recommend it for people who are just physically smaller or weaker due to the height and sturdiness of the thing. (Mantis makes other compost tumblers that would be better suited) but for folks like me who want a very attractive, long-lasting compost container that makes or finishes compost quickly, it's absolutely worth looking at.
I'm happy, my chickens are happy, my garden is happy and I feel like my composting system is finally optimized.
The Giveaway
Mantis sells many different compost tumblers, and they are giving one away to you guys! The ComposT-Twin, the one I have, has a retail value of $599, making this the largest giveaway I've ever done. It's pretty exciting!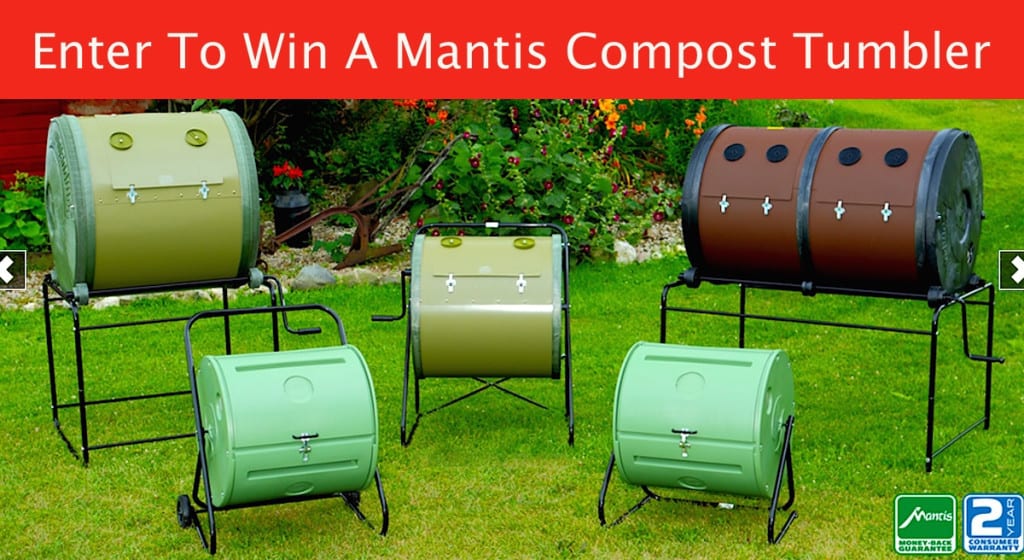 To enter to win your choice of a Mantis composter, go to Mantis.com and take a look at all their composter options – they make five different compost tumblers for different scale gardens.
Then, leave a comment below and tell me which Mantis composter you would pick for your garden if you win this giveaway.
That's it!
One winner will be picked, and Mantis will send the winner their choice of a super high quality, made in the USA compost tumbler.
Stay tuned because, even if you don't win this free composter, Mantis has some sweet deals for NW Edible readers coming up. I'll keep you posted.
The Fine Print
Due to the shipping weight of the Mantis composters, this contest is open to US residents of the lower 48 states only.
Contest closes 8 pm Pacific time, Friday June 5th 2015.
Winner will be notified by email and shall have 48 hours to respond to claim their prize.
I am proud to have Mantis as a seasonal sponsor of this blog.
Good luck!