Annette, friend and co-author of the Urban Farm Handbook, has organized a 12-months-of-urban-farming challenge on her blog Sustainable Eats. Participants learn, do, share and can win great prizes for taking the challenge.
Take The April Seed Starting Challenge
The April challenge is all about gardening, and I'm challenging NW Edible readers, Urban Farm Challenge participants and all happy stumblers to start something from seed this month that is new to you.
You can start something indoors, under lights, or you can sow seeds directly in the garden outside. You can sow your seeds in a container or in a prepared garden plot.
I'm not fiddly about details. The only rules are that you must start with a seed packet, not a purchased nursery start and you must push your gardener comfort zone with a new type or variety of edible.
After you sow your seed or plant your start, come back to this post and leave a comment telling us what new-to-you edible you're growing from seed!
What's In It For Me?
– The skill building that comes with trying new things in the garden and becoming less-dependent on the sad, sad gardening rack at Home Depot.
– The community of fellow gardeners all taking the challenge and sharing their skills and experiences along the way.
– The opportunity to win a free subscription to Urban Farm Magazine.
Wait, There's A Magazine Made Just For Urban Farmers?
Yup, there is.
Urban Farm Magazine, from the same publisher who puts out Hobby Farms and Chickens, is a great resource for people trying to keep a more productive home in urban areas. I'm a subscriber, and look forward to my new issue every two months.
Urban Farm Magazine is packed with articles on gardening, including in small spaces and in containers, bee-keeping, chicken-keeping, goat-keeping, running a greener home and more.
The magazine is an ideal, gentle resource for beginning and intermediate urban farmers and homesteaders but there is something in each issue that most anyone, of any experience level and any location can learn from or find inspiration in.
The kind people at Urban Farm Magazine are sponsoring this challenge and have sent me a gift certificate for a free 6-issue/1-year subscription to the magazine. You win the challenge and I send the gift certificate to you!
To be entered, all you do it participate in the challenge, start something from seed and leave a comment on this post telling us what you did. Contest is open all month – it closes on Sunday, April 29th at 11:59 PM PST. Winner will be announced Monday April 30th.
But That's Not All!
I'm not the only blogger participating in the April Gardening Challenge – there's more great info and gardening challenges coming froms some honest-to-goodness celebrities.
Look for upcoming April Garden Challenge posts from:
– Graham Kerr, Chef-legend, host of too many cooking shows to list and author of too many books to count, including the most recent, Growing at the Speed of Life: A Year In The Life Of My First Kitchen Garden. (Mr. Kerr is a recent edible-gardening convert.)
– Jessi Bloom, garden designer, expert on vegetable gardening with chickens and author of Free Range Chicken Gardens (my review coming tomorrow).
– Colin McCrate, co-founder of Seattle Urban Farm Company and author of the soon-to-be-released book, Food Grown Right, In Your Backyard.
– And more!
Make sure to follow Annette at Sustainable Eats so you don't miss any of the great challenges and guest posts she's coordinating.
Need to do some research before you take the challenge?
If you are new to seeds, read why gardeners use seeds and how to take care of yours in my post, Seeds For Beginners: Saving, Storing and Organizing Your Vegetable Seeds.
For information on how to grow your own transplants at home, you might want to check out my three-part Seed Starting 101 series: Key Components For Healthy Seedlings, A Step-by-Step Visual Guide To Growing Seedlings At Home, and Up-Potting.
For ideas on what seeds are appropriate to start in or sow out now, check out yesterday's post: To Do In The Northwest Edible Garden: April 2012.
If you are already a G.W.T.M.S (gardener with too many seeds), find organizational relief with my Seed Organization Database.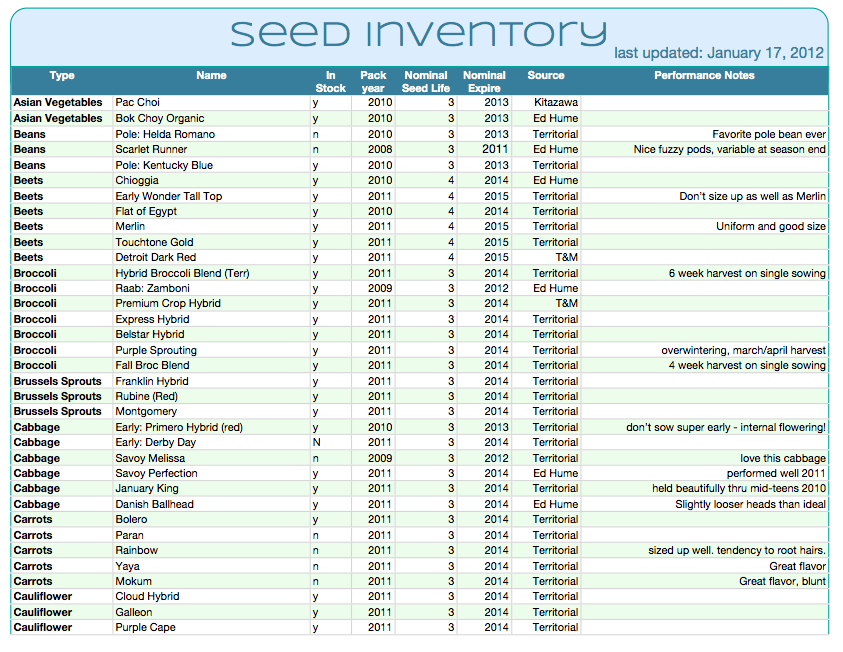 Bloggers: Show Us Your Gardening Stuff
Help build the gardening community and show us your seed starting stuff! If you have a blog, we'd love to learn from you too.
Let NW Edible and Urban Farm Challenge readers read what you have to say. Follow the "Click here to enter" link below to add your best posts – the helpful, the funny, the failures, whatever! – about edible gardening. Your post can be new for the challenge or an old favorite. Just make sure it pertains to growing-your-own.
Update: Link-up your favorite post on edible gardening or seed starting for your chance to win a (second, Northwest Edible-sponsored) subscription to Urban Farms Magazine too, if readers pick your post as their favorite as measured by the "like" counter associated with each entry.
Bloggers, you can enter for both subscriptions by both commenting and linking-up, but no one can win both subscriptions.
Add your own experience, check back to read other's, find great new ideas and remember to vote for your favorite posts.
Link-up is open until April 29th, 11:59 PM PST.