Have you heard about the Slow Flowers movement? It's a bit like Slow Food, but in a vase instead of on a plate. Local Seattle garden guru Debra Prinzing is the champion of the slow flowers idea. She's written and spoken extensively about why heavily sprayed, monocrop-grown flowers, flown in from all over the world are bad news.
It's funny, but even the most ardent 100-mile-diet locavore might still pick up a bouquet of South American roses for Valentine's Day without really thinking about it. Until I heard of Slow Flowers, it hadn't occurred to me, but up here in the Northern Hemisphere, roses in February are pretty ridiculous.

Debra Prinzing wrote her most recent book, Slow Flowers, to show that it's possible to create gorgeous bouquets, 52-weeks-a-year, from local flowers and foliage. Then, she followed up with the Slow Flowers Challenge, to encourage people to get creative with their own flowers.
I'll be honest: I'm not really a flower person. Oh, sure, I love my lilies and peonies and hydrangeas in the garden, but the act of arranging flowers has always taken a distant back seat to, say, mucking out chicken shit.
I'm not delicate in that "floral" way, is my point.
But I do love a good challenge and a beautiful, peaceful home. I like the idea of slowing down a bit, and taking the time to think about the non-edible aspects of my yard, and how I can "harvest" them, too.
So I am, casually, as I remember it, participating in the Slow Flowers Challenge and I hope you will, too!
Here's the bouquet I made yesterday. It has Wine and Roses Weigela, Variegated Red Twig Dogwood, White Lilac and Chinese Wisteria.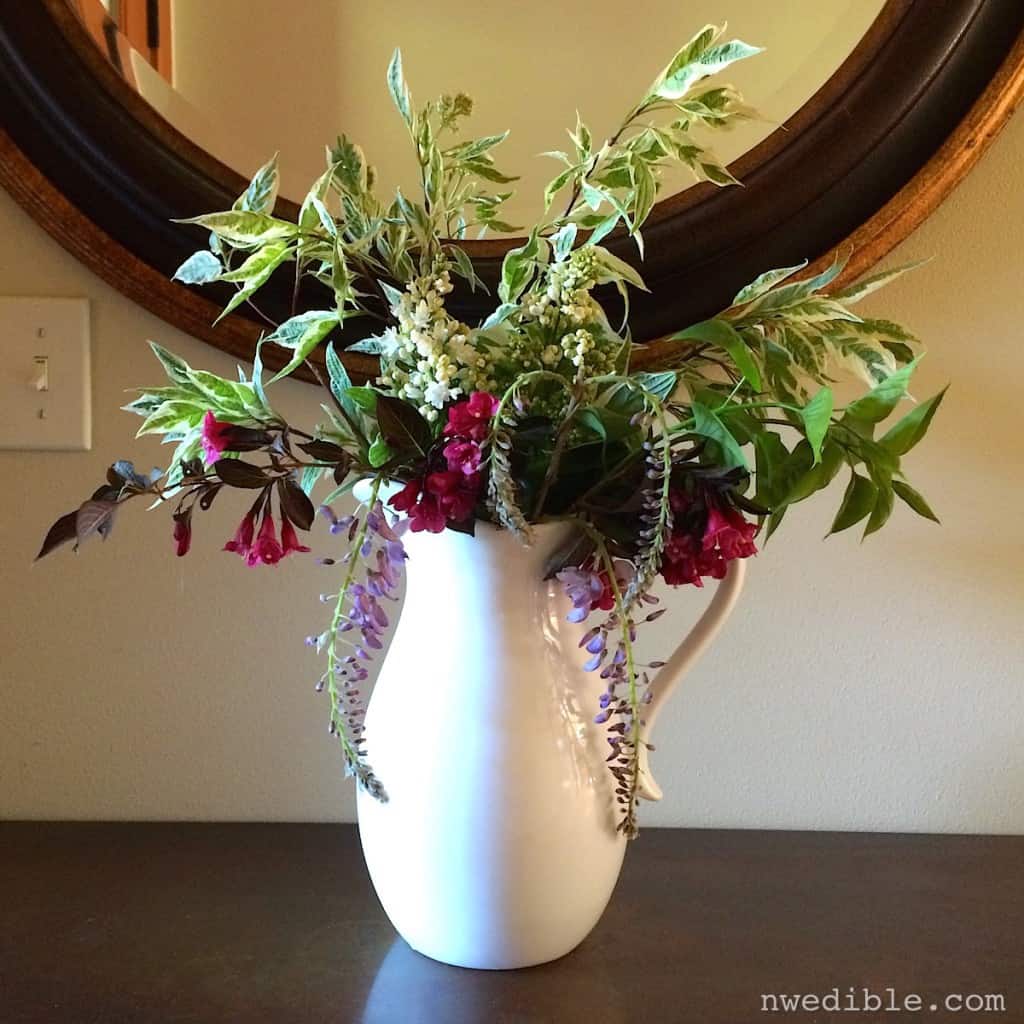 I'll be posting my bouquets on my Instagram account, if you want to follow along. If you make you own slow flower arrangements and post photos somewhere, please tag me or let me know, so I can see what you are up to!
So, what do you think about this whole Slow Flowers thing? Are you ready to go as local with your flowers as you do with your food?