It's April. Spring, persistently, nudges out winter, but the weather back and forth at this time of year can be trying to the gardener who eager to get out there and sink their hands into soil.
Here in the Northwest we have it easy compared to much of the nation which remains buried in the grip of winter.
The biggest issue for NW gardeners right now is local flooding and ground saturation. March was a very wet month – the wettest year in Seattle on record – and in many gardens, the soil is simply too saturated to do much with.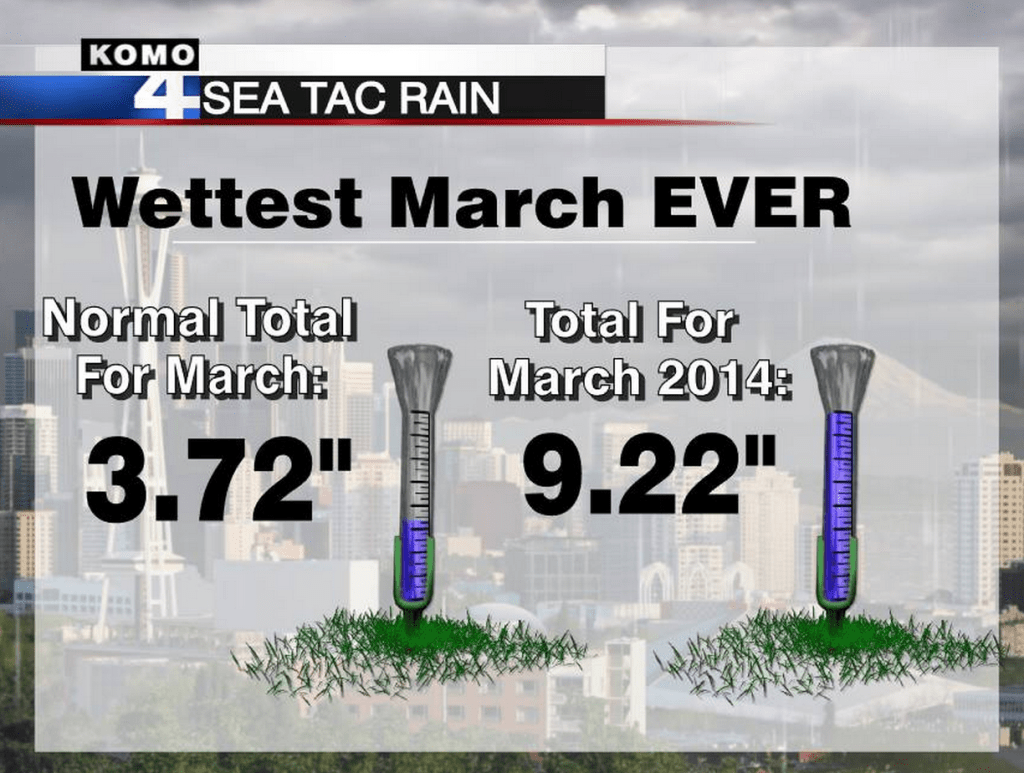 Rainfall like this is why raised beds and preparing your ground in fall for spring planting is a good idea. It's folly to attempt to work saturated earth. I also recommend wintering your beds under a nice, cushioning layer of mulch – like straw or cardboard or shredded leaves or rough compost. If you do fall clean up but leave the soil bare, the winter rains will compact the heck out of your garden soil.
Lots of rain can lead to worse things than compacted beds and delayed sowing, of course. Soils that are saturated with water are heavy and unstable.
You've probably heard of the terrible mudslide in Oso, Washington that happened last week. At least 18 – and probably over 30 – people perished, with many more missing. Mudslide doesn't seem to really cover that disaster – when you look at the pictures, the entire side of hill was there, and then it just wasn't. Our thoughts are with the survivors and the first responders who still, doggedly, work their way through the debris fields.
Please consider joining me in donating to the Red Cross. When really bad things happen, those people show up to help.
Ok, on to gardening. April's a busy month! Let's get going.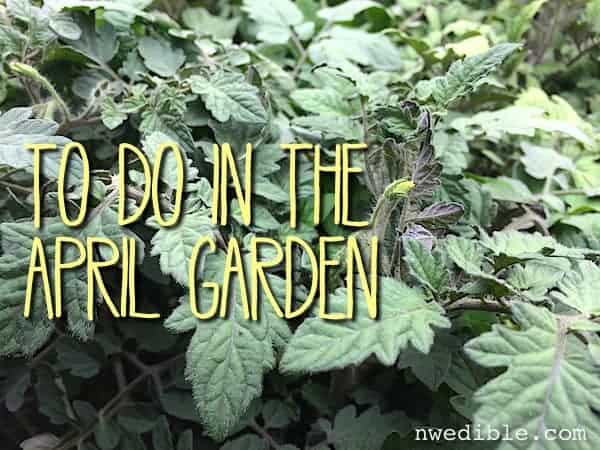 Plan & Purchase
Nurseries are full-to-bursting now with fruit tree, berries, edible landscaping shrubs, six-packs of cabbages and little starts of peas. If you haven't been starting your own early season crops, you can put a spring garden in with purchased starts. (Read about how to select a good nursery start.) It's just going to cost you a bit more.
By now your garden plan should be pretty finalized and you should have a general idea of what will be planted where. (Read about Year Round Garden Planning.) Many of your earliest crops may already be sown or transplanted out.
Here's my spring cabbages, taken about a week ago: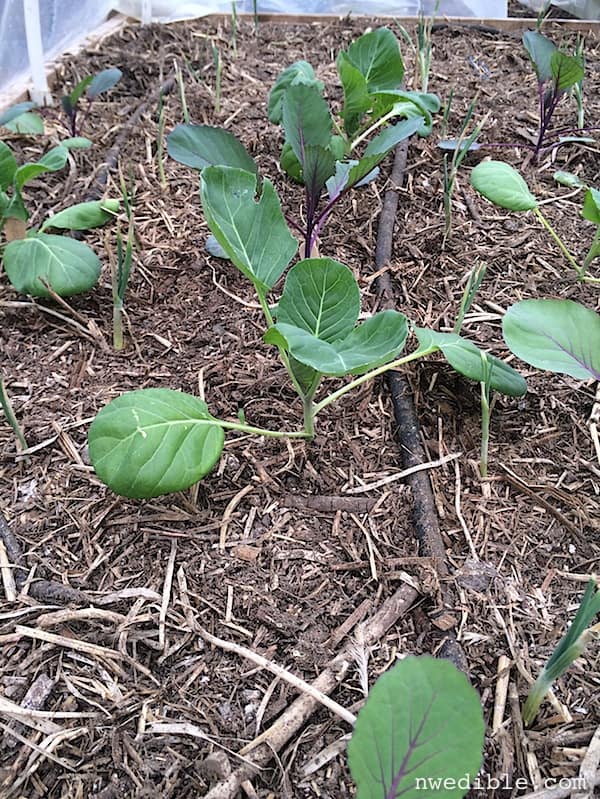 Sow Indoors
If you are new to starting your own seeds you might want to check out my three-part Seed Starting 101 series: Key Components For Healthy Seedlings, A Step-by-Step Visual Guide To Growing Seedlings At Home, and Up-Potting.
My choice of seedhouse is High Mowing Organic Seeds. As a sponsor of this blog they help bring a ton of free information to you. As a company they are beyond ethical. As a seed-grower they provide the highest germination, highest quality seed I've ever had the pleasure of growing, and it's 100% organically grown.
Summer & Winter Squash – I have started squash under lights as early as late February, but early/mid-April is my target date. I have recently come to believe that large vining winter squash should not really be started indoors. The less aggressive bush types do ok, but I now believe that the sprawling large-fruited squash needs opportunity to shoot it's taproot straight down without encumberance. This year I will start some squash seed inside, but will pre-warm the soil with clear plastic and sow the big boy seeds directly outside.
Cucumbers – If I'm feeling like it, I will start cucumbers indoors in mid-April. Because cukes are more precocious than the squashes, I don't think there's as much to be gained by it. I find it's easier to wait until the weather settles down in May (or June….or July….sigh) and sow them out directly.
Basil – Start your basil early this month. You'll want lots so you can make jars and jars of Walnut Lemon Pesto later. I always sow way too much basil and it's never quite enough. I'm a basil glutton.
Sow Outside
If February is "Start Inside Month" April is "Direct Sow Month!" So long as your soil isn't totally waterlogged, as it warms through the month, feel free to go crazy – cover that soil with cool-season seeds!
At this time of year I broadcast sow a lot of fast-maturing spring greens like mustards, arugula or mesclun mix as an intercrop between slower-growing plants. This bed of garlic just got oversown with a mix of mustards. I don't worry too much about precision – I just sprinkle seeds over the bed and plan on harvesting by thinning.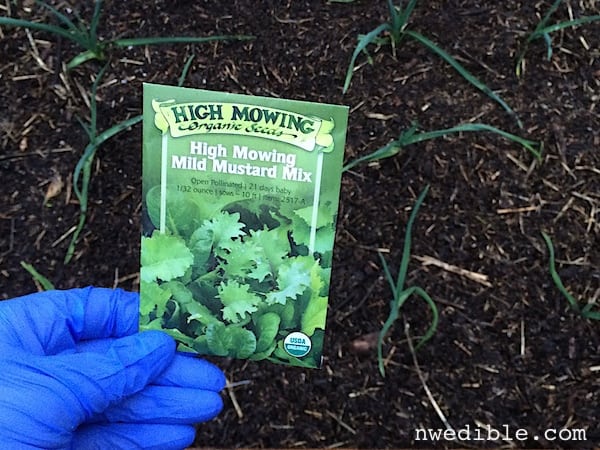 Brassicas – broccoli, cauliflower, brussels sprouts, kohlrabi and kale can be sown directly in the ground now without protection. Keep an eye out for slugs! No really, watch for slugs.
Carrots, Parsnips & Root Parsley – As long as your soil is dry enough to work to a smooth tilth, these can all be planted. You will have the best results in loose open soil and I encourage you to cover your seedlings with row cover to prevent the carrot root maggot from destroying your crop. I'm growing a root maggot resistant variety this year – I'll let you know how it turns out!
Peas & Favas – You can still plant peas and favas but it's best to choose enation resistant pea varieties for planting at this time of year and get them in sooner rather than later.
Salad Greens – Lettuce, spinach, mustards, arugula, Asian greens and greens mixes can be sown directly for salad and quick sautes.  If you started greens indoors last month under lights, harden them off before you settle them into their outside bed.
Radishes – Fast maturing and great for intercropping.
Swiss Chard – I love the Rainbow Chard for looks but Fordhook Giant is more winter-hardy.
Turnips & Rutabagas – I don't bother with rutabagas in spring. For me they are a purely fall-winter crop. Spring turnips are lovely though if you can keep the maggot out of them.
Beets – Can be sown out directly now.
Onion Sets – It's really too late to plant onion seed, but you can still plant sets or starts. These are available in most good nurseries now, or you can order from a specialty supplier like Dixondale. Get your main onion patch in asap if you are working from sets or starts. I finished putting mine in about a week ago.
Potatoes – Plant anytime from March to June, depending on variety, when you want to harvest them and what the weather is doing. We've been putting our potatoes in over the past two weeks. On the advice of my friend Grace I'm trying a rare local heirloom potato called Makah Ozette this year.
Jerusalem Artichokes – Can still be planted. Just know what you are getting into. This is a tuber that likes to thrive.
Hardy Herbs: Chives, parsley, mints, marjoram, oregano, dill, fennel, borage, cilantro and the like can all be sown out now.
Tender Herbs: Basil is best started inside or in a greenhouse. Sowing it directly generally doesn't allow a long enough growing season for it to get large. But if you are in the southern part of the maritime NW, direct sowing might be reasonable.
Transplant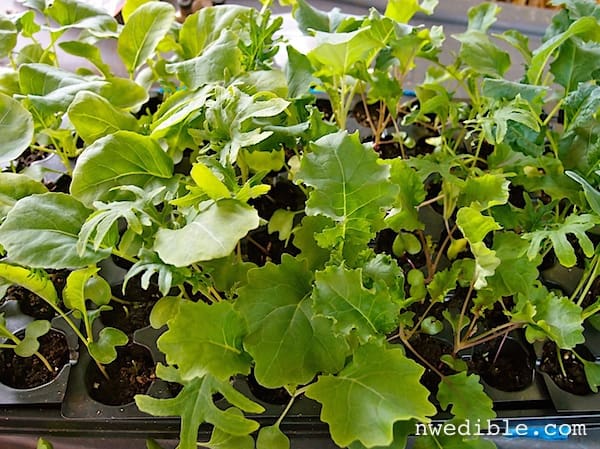 Tomatoes – if you are growing in a protected area and if the weather cooperates and if you are employing season extension techniques and if have pre-warmed the soil and if you really want the earliest possible tomatoes and if you have hardened off your tomatoes, then maybe you might think about possibly transplanting your tomatoes out around mid April. Maybe. But do you really want to work that hard? In the past I have, in order to have that coveted July 4th fresh ripe tomato. But honestly, I'm not sure I care that much anymore. I'll aim for a late-April through early-May transplant into cloches, depending on weather.
Harvest
Rough year for the hunger gap. Not much made it through last winter. Thank goodness for kale, eh?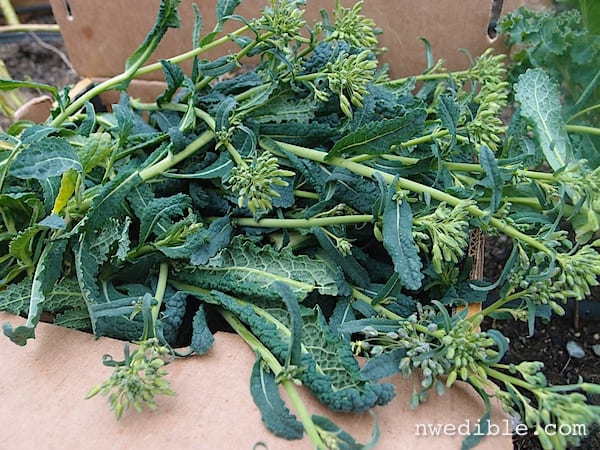 Salad Greens – overwintered and earliest new season greens can be picked. I have mache. And mache. And mache. But more salad greens are coming on strong.
Leeks – I'll be harvesting the last of mine this month.
Rhubarb – I may harvest a few stalks this year. Mostly I just like having my rhubarb.
Overwintering Cauliflower – I have two in the ground still waiting to mature. I'm expecting them to head up in May.
Sprouting Kale and Broccoli – I didn't grow sprouting broccoli last fall (how did that happen?!) but the kale is pumping out delicious shoots that can be eaten like broccolini.

Jerusalem Artichokes – This moderately aggressive perennial will always be there when you need it. I like it in soup and gratin type dishes.

Chard – If yours overwintered it's putting on nice new growth you can harvest.
Turnips and Rutabagas – My unharvested turnip greens are bolting now, but the unopened flowers are good to saute. I may leave them leave them for the bees if space allows.
Herbs – chives, rosemary, fennel, thyme, oregano, sage…all the perennial herbs are in good shape. Haven't seen tarragon yet, though. I think it's time to replant.
What are your plans in the garden this month?